Ipod and water bottle in hand, Dave strolls down a flower lined path toward his first destination of the morning, his gym. At the door to the gym, he is greeted by his wife, Janet. Janet takes a sip of her latte, gives Dave a kiss and tells him she's off to the studio. While Dave is turning on some music and contemplating how many miles he'll put on the treadmill today, Janet walks up a staircase to her studio.
The kiln in the corner warms the studio from the chill of the rainy night before.  Janet hangs her coat and inspects yesterday's creations on the drying rack. In her mind, she's sizing up what glaze and design she'll use for each piece. Dave will head to his office on the other side of the building after his workout.
Depending upon where you live, you might have your own vision of this scene. Perhaps it's a downtown building that has ground level shops, like a gym, and small spaces upstairs for rent, like a studio. Maybe an office park in the suburbs. Perhaps even a co-op village. For Dave and Janet, though, the gym and studio are in a part of their backyard that used to be home to a jungle gym, sandbox and 4-square court. When they became empty nesters, they decided to consolidate their life, cut commuting expenses, and take advantage of some unused space at home. They created a two story, backyard cottage that had a gym, bath and shower, and kitchenette on the ground floor, as well as side-by-side offices on the upper level. Dave, rather than a kiln and pottery supplies, has a desk and display of catalogues that he will use in presentations when clients visit him.
Backyard cottages have been gaining in popularity and attention lately. With the changes in the housing market making it impractical to sell some  homes, possibly gas prices making long commutes impractical, or maybe the desire to simplify a life that's been too removed from home, its' easy to see why someone might choose to build one. Many people build them to be guest quarters, mother-in-law apartments, a rental unit for additional monthly revenue, or temporary lodging for boomerang offspring who are trying to land that first job out of college. Some of these are as simply built as a miniature starter home, and yet others are elegantly equipped as a five-star hotel.
To maximize the value of these buildings, they should be planned by an architect so that they will work for your intended use. In the example, Janet's kiln would be heavy and very hot, so several building precautions would be warranted. One short cut to avoid would be to do anything less than fully permitted and inspected, as failure there can cost far more than the property tax levy to take care of later. It's advised that unless you have lots of experience, have the riskier tasks done by subcontractors.
These buildings will add value to the homeowner's property over time, as if they are built properly, they'll appreciate in conjunction with the value of the home. The reasons for having one are many and personal, but if you were to drive down many city streets, you will find one hiding under the trees in a corner of the backyard.
Can you see a point of your life, and a place on your property, in which a backyard cottage would make sense?
By Eric Johnson, Director of Education
Johnson has several years experience as a real estate agent and real estate instructor, as well as experience in construction project management, digital media/publishing and insurance. He has a bachelor's degree in anthropology from University of Colorado.
When it comes time to decide if you want to downsize, there are many thoughts and emotions that go speeding through your mind.  Maybe you have already decided this is your home for the rest of your life.  Your home was the perfect place to meet your needs when you were in an earlier cycle of life, and will be the ideal home for all the events you see happening in your next.  If you are inclined to feel that the home you currently reside in may have out-lived its purpose, you may be struggling with some of the same thoughts and emotions my husband and I had when it came to the emotional and financially sensitive decision to downsize.
In our situation, we loved our home.  It provided everything we needed to raise our three children, plus nurture all the creative projects that identified who we are as a family as well as individuals.  Our children were just like anyone else's; loved, individually different, all requiring unique activities and space to help them grow, using their special talents.  We loved our neighborhood and took an active part in making it an extension of our home.  Considering that it had been our home for decades, deciding to leave was emotionally difficult.
We spent several years before we knew we would leave our home, looking at all the smaller options.  We wondered, should we look for another single-family dwelling or check out other options like co-ops of condominiums?  My husband had spent the past twenty-five years mowing our lawn and was quite willing to remove this task from his plate. I, on the other hand, still loved to garden.  Was there a living environment that could satisfy both these expectations?  We looked at every condominium and every co-op in the Seattle area for five years, but nothing really fulfilled everything we needed.  We had a list of features including a garden spot, closets and efficient use of space, etc. I'm an Old World Charm lady, but guess what?  Back in the 20's ladies only owned three dresses.  Let's just say, I own a few more outfits than most pre-war closets were meant to hold.  So the search went on.
When our children finally reached their 20's and my husband wanted to retire, we knew it was time to make our move.  Like I said, everyone loves their children, but not all the party time we now came to expect in our rec room every weekend.  We were ready to have a space of our own, and it was time for our kids to begin their next cycle in-life.  We also had too much of our finances tied up in a 3,000 square foot house, when in reality we needed less and could save more.  We had to leave the home we had dedicated to making our unique expression of who we were, and leave very soon.
If any of this sounds familiar, your task will be a little easier than it seems! Here is some practical advice for making your move:
Define your needs:  Narrow down your ideal needs. Start by deciding if you want a single-family versus multi-family dwelling. Consider your price range, and then space needs.
Downsize: We downsized a bit more than we should have, but we sure got rid of lots of items we collected over the past 25 years.  Some of them were special to me.  I'd purchased a beautiful wood serving tray at a yard sale with one of my dearest friends.  I had to borrow money from her to buy it.  I solved the problem by giving it to her when we moved, and I still see it when I visit her home.  My children took much of the furniture they had a special connection to, and my nephew, who spent nearly every Christmas sitting in his favorite red chair, can now enjoy it in his own home.
Let go: Leaving the neighborhood and all our lifelong friends was the most difficult process, I think, of all the decisions we had to make.  We still see them, but as I'm writing this my eyes are tearing up.  It's hard to re-visit my old neighborhood and see my old home cared for in a different way than I had lovingly done for twenty-five years.  But it does give us plenty of things to talk about with old friends when we get together.
What did we end up doing?  We moved into a vintage 1930's co-op in a walkable part of town.  I have just the right amount of gardening space that I share with other owners.  We have made wonderful friends with some of our neighbors and get together frequently for happy hour and spur-of-the-moment gatherings.  It's a different lifestyle than we had before but, believe me, there are plus sides. In no way will any of our three wonderful, adored, adult children ever be able to move back home, since we now live in an 850-square-foot co-op with every space used on a daily basis.  There were times when I wouldn't go in one of my rooms in our old home for several weeks.  This is not a problem now.  Yes, maybe it's too small, but we can always move into a larger place if and when we feel it's time.
What are your questions about downsizing your home? What features do you require to live in a smaller, more efficient dwelling?
Pat Eskenazi is a Windermere veteran, working in marketing for the past 12 years. She has lived in Seattle since 1952.  Her favorite place to walk is along Golden Gardens, and she especially loves to climb the stairs up to the Sunset Hill neighborhood where she lived with her 3 children and husband for 25 years.
Posted on March 18, 2019 at 1:45 pm
Fort Collins
Category:

Blog, Housing Trends
Tagged

children, Condominiums, Downsize, empty nester, empty nesters, Features, moving, Must have, Needs, Size, Windermere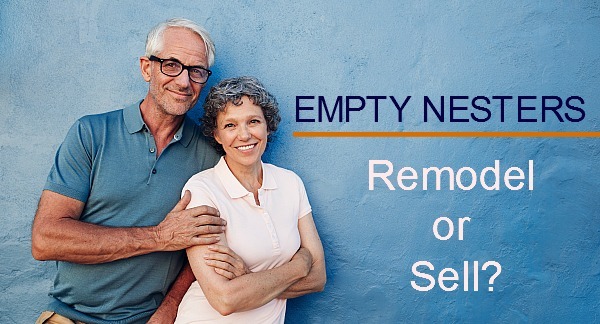 Your kids have moved out and now you're living in a big house with way more space than you need. You have two choices – remodel your existing home or move. Here are some things to consider about each option.
Choice No. 1: Remodel your existing home to better fit your current needs.
Remodeling gives you lots of options, but some choices can reduce the value of your home. You can combine two bedrooms into a master suite or change another bedroom into a spa area. But reducing the number of bedrooms can dramatically decrease the value of your house when you go to sell, making it much less desirable to a typical buyer with a family.
The ROI on remodeling is generally poor. You should remodel because it's something that makes your home more appealing for you, not because you want to increase the value of your home. According to a recent study, on average you'll recoup just 64 percent of a remodeling project's investment when you go to sell.
Remodeling is stressful. Living in a construction zone is no fun, and an extensive remodel may mean that you have to move out of your home for a while. Staying on budget is also challenging. Remodels often end up taking much more time and much more money than homeowners expect.
Choice No. 2: Sell your existing home and buy your empty nest dream home.
You can downsize to a single-level residence and upsize your lifestyle. Many people planning for their later years prefer a home that is all on one level and has less square footage. But downsizing doesn't mean scrimping. You may be able to funnel the proceeds of the sale of your existing home into a great view or high-end amenities.
A "lock-and-leave" home offers more freedom. As your time becomes more flexible, you may want to travel more. Or maybe you'd like to spend winters in a sunnier climate. You may want to trade your existing home for the security and low maintenance of condominium living.
There has never been a better time to sell. Our area is one of the top in the country for sellers to get the greatest return on investment. Real estate is cyclical, so the current boom is bound to moderate at some point. If you're thinking about selling, take advantage of this strong seller's market and do it now.
Bottom Line
If your current home no longer works for you, consider looking at homes that would meet your lifestyle needs before taking on the cost and hassle of remodeling. Get in touch with a Windermere Real Estate broker to discuss the best option for you.