Each object in a home serves a purpose, but for those who experience dizziness and numbness, many of them can also be a potential hazard. Taking steps to reduce the risk of falling in your home is a worthy exercise for any homeowner, especially if you have elderly family members or young children living in your home or visiting often. Here are some ways you can fall proof the rooms in your home.
How to Fall Proof Your Home
Kitchen
The kitchen is synonymous with spills and messes. When these accidents happen, be sure to clean them up quickly and thoroughly to reduce the risk of a falling injury. Slippery floors have been the culprit of countless broken bones and bruises, so it's best to wait until the cleaned spot is dry until you resume cooking.
Stay low to the ground as much as possible by keeping your most used items like spices, cooking utensils, and hand towels within reach to reduce the number of times you need to use a step stool.
Bathroom
In the bathroom surfaces are often slippery and slick, and the hard tile makes for an unforgiving landing spot. It's common for homeowners to place a non-slip mat in the shower or tub to reduce the risk of slipping and falling. Grab bars are a more permanent option for making the bathroom safer. For those interested in installing a grab bar but have reservations about the aesthetics of installing a grab bar, look at pieces that align with your existing décor. Match the grab bar with your shower head, shower rod, and towel racks to make it fit with the space.
Bedroom
The key to preventing falls in the bedroom is visibility. Bedrooms are cozy, intimate spaces, which means that space can often be limited. Keep all pathways clear and make sure that your nightstands and bedside lamps are well within reach. Stow any cords next to your bed to avoid tripping over them in the night.
Staircases
We've all taken a tumble on the stairs at some point or another. To mitigate the risk of falling, keep your stairs organized at all times. It's easy for clutter to build up at the top or bottom of the stairs or on platforms between floors, but these objects are tripping hazards. Consider installing a handrail if you don't have one or add a second one if you currently only have a handrail on one side.
For more information on home safety, cleaning tips, and more, visit the living section of our blog.

Deciding whether to DIY a remodeling project or leave it to a professional is a matter of weighing the risks and rewards, time, and budget. Before you start applying a new coat of paint or go about knocking down a wall, create a plan for your remodel to help you decide which projects you can handle, and which ones belong in the hands of a pro.
Create Your Remodeling Plan
Knowing your plans for your remodel will help to determine your timeline and budget, which will inform your DIY-vs-Pro decision-making. Set specific goals for each project so you'll know when you're getting off track but remain flexible in your planning to leave room for any unexpected hurdles that will inevitably pop up in the remodeling process. Your budget will also help you decide who should execute certain projects. For example, if you're budgeting more for a kitchen remodel than any other project, that is a likely candidate for professional help.
If you're having trouble deciding the best route to take with your remodeling projects, ask yourself the following questions:
What risks am I comfortable taking on?
How much time am I willing to dedicate to this project?
Does this project require a permit?
Do I have any experience with this kind of remodel?
Am I comfortable giving up control of this project?
DIY Remodeling Pros and Cons
Pros: Taking a DIY approach to remodeling projects pays dividends in many ways. Without having to pay labor costs, you stand to save significant money by tackling a project on your own. Going DIY also allows you to set your own schedule for the project. And of course, the sense of ownership and pride you will feel knowing you completed the project on your own is a priceless feeling for a homeowner.
Cons: DIY projects can be consequential. Mistakes at any point in the renovation process can lead to greater costs and sometimes, hiring a professional to fix the mistake. Unfortunately, this can result in the loss of significant time and money.
Professional Remodeling Pros and Cons
Pros: Professionals are inherently more experienced, bringing their specialization to the table on every home renovation project, so you can expect them to perform high-quality work that will increase the value of your home.
Cons: Getting professional quality work means paying for it. When budgeting, expect higher costs for any project you're thinking of outsourcing to a pro. Bear in mind that, especially for large-scale renovation projects, your home will become a construction site. Accordingly, you may need a back-up plan, such as a temporary kitchen set-up or a short-term rental home .
DIY Remodeling vs Professional Remodeling: Around the House
The following list breaks down which projects are typical DIY candidates and which ones homeowners commonly opt for professional help to complete. However, the decision is ultimately up to you. If you have your heart on tackling a project on your own, gather your tools and make it happen!
Kitchen
Professional: Any large-scale structural changes, new gas lines, or new plumbing projects should be handled by a professional.
DIY: Simpler kitchen projects like a backsplash or faucet replacement and any cabinet finishing tasks are perfect DIY candidates.
Bathroom
Professional: Plumbing installation, running electricity, or any projects involving an expansion or alteration to your bathroom structure.
DIY: If your bathroom is simply in need of some new tile work, basic medicine cabinet restoration, or minor flooring improvements, roll up your sleeves and DIY.
Backyard
Professional: Consider hiring a professional for any significant outdoor projects like concrete builds, in-ground pools, and technical deck work.
DIY: Common backyard DIY projects include building a garden tool shed, building a fence, and refinishing a deck.
General
Professional: It is best to hire pros for new roofing, any foundation work, and extensive demolition projects. For asbestos and drywall finishing, it's easiest, and safest, to go with the pros.
DIY: Any interior painting projects, basic electrical work, or simple trim and door upgrades.
If you're planning on going through a remodel while you live at home, read this first. For more information on how certain renovations may impact the value of your home, talk to your Windermere agent.


Your new home awaits at 848 Terra View Circle in Fort Collins on over 3/4 acre lot. This beautiful home has been updated on the inside and outside. Freshly painted exterior and new roof gives this home amazing curb appeal. Enter the home to refinished wood floors, new carpet and fresh interior paint. The chef in the family will love to entertain in this kitchen with gorgeous granite countertops and backsplash, gas cooktop, double ovens and an island! The finished walkout basement boasts a full wet bar with refrigerator, electric cooktop, and dishwasher. Relax in front of two separate fireplaces in the home or tinker on your toys in the heated garage! Are you looking for a move in ready home with some elbow room? This is it! Check out the 3D Tour to walk through the home in detail! Contact Rondi duPont at (970) 401-0123 for your private showing for more information or click the link below for more details.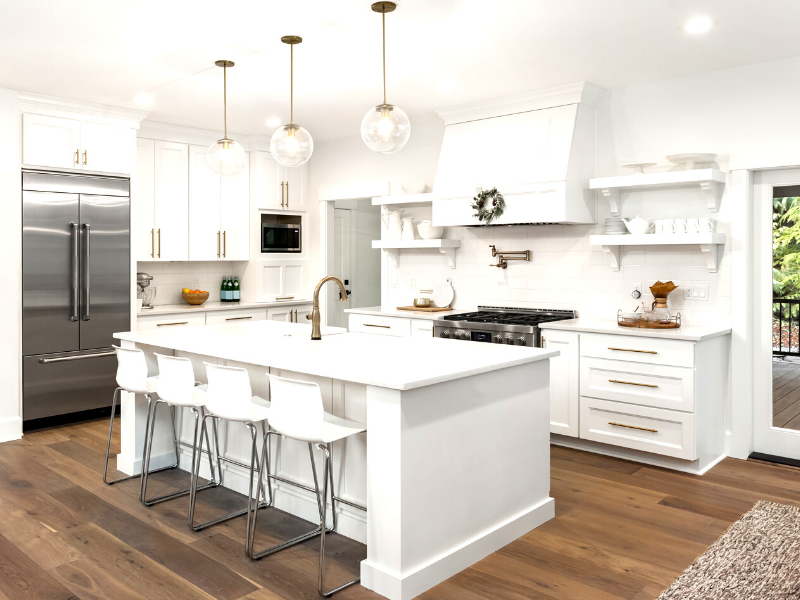 Ask a homeowner which room they would most like to improve, and most will point to the kitchen – the starting point for every meal and the heart of the home.
Ask those same people why they don't move forward with a kitchen remodel, and many will say the project seems so overwhelming they don't know where to start. If your kitchen needs an upgrade, here are some step-by-step suggestions to get you started.
Gather your thoughts
The steps that follow will all progress much easier if you take time beforehand to form a strong opinion about the desired look and layout of your new kitchen.
Start by reviewing kitchen magazines and photo-heavy kitchen remodeling guides and/or websites. Compiling clippings and printouts in a notebook helps you refine your vision. Clip or print the photos that capture your imagination, add notes, and draw circles and arrows around the things you like most.
Once you have a clearer vision of what you want, search online for better examples and new solutions, if necessary. If you live with a significant other, share your ideas with them and don't allow yourself to become too committed before getting buy-in from them. Contractors and sales associates will expect a unified front.
Focus on the flow
Another major factor you'll want to consider is how your new kitchen will be used, and by whom:
Do you want to cook with others?
Do you want family and guests to gather in the space while you cook?
Do you want to serve meals in the kitchen?
Do you want to display your dishware?
Where would you like things stored for maximum efficiency?
Imagine yourself happily cooking and entertaining in your new kitchen, then note the key elements necessary to make those dreams a reality. Having a list of your desired kitchen features and storage needs will help ensure your plan meets your vision.
Determine your budget
According to the annual Remodeling Magazine survey of costs, a "midrange," "minor" kitchen remodel will cost homeowners living on the West Coast about $23,000. Those same folks can expect to pay about $70,000 for a midrange "major" kitchen remodel. Determine what you can afford before you start work to ensure that your vision is within reach, or to help prioritize what's most critical.
What to do with the cabinets
Replacing the cabinets is one of the most expensive improvements you can make in a kitchen remodel (typically consuming 20 to 40 percent of the overall budget, according to Architectural Digest).
Consider refacing instead. This can include one of the following: 1) Installing completely new cabinet doors and drawer fronts or 2) installing new wood or laminate veneer over the existing cabinet and drawer fronts or 3) simply refinishing the existing cabinet and drawer fronts.
Shopping for contractors
The contractor you choose will determine much of the cost, the pace of your project, the amount of disruption, the final results, and your level of satisfaction. So be thorough in your search:
Ask friends and family for referrals and advice.
Interview at least three of the leading prospects in-person.
Ask to see samples of past work.
Look for someone who complements your operating style (similar personality and communication style).
Once you've narrowed your choice to one or two, ask to speak with a few past clients.
You'll be tempted to latch onto the first contractor who gets rave reviews from a friend or family member. But remember: You and your project are unique, and it's worth the time and effort to be rigorous in your search.
Selecting appliances
If you're planning to replace appliances, here are three factors you'll want to consider:
Finish – Stainless steel is still the most popular option, but beware: smudges, fingerprints, water spots, and streaks will be obvious. Black stainless steel has a warmer feel and is better at hiding spots.
Extended warranty – According to Consumer Reports, extended warranties are hardly ever worth it because today's appliances are so reliable. And if something does fail, it's often less expensive to just pay for the repair.
Unbiased testing and reviews – Before making an appliance purchase, use the information resources available through Consumer Reports.
A final note
Moving walls and extending your home's foundation are both very expensive options. If your kitchen plans call for these architectural renovations, perhaps you've outgrown your home and need something larger (with an already-improved kitchen).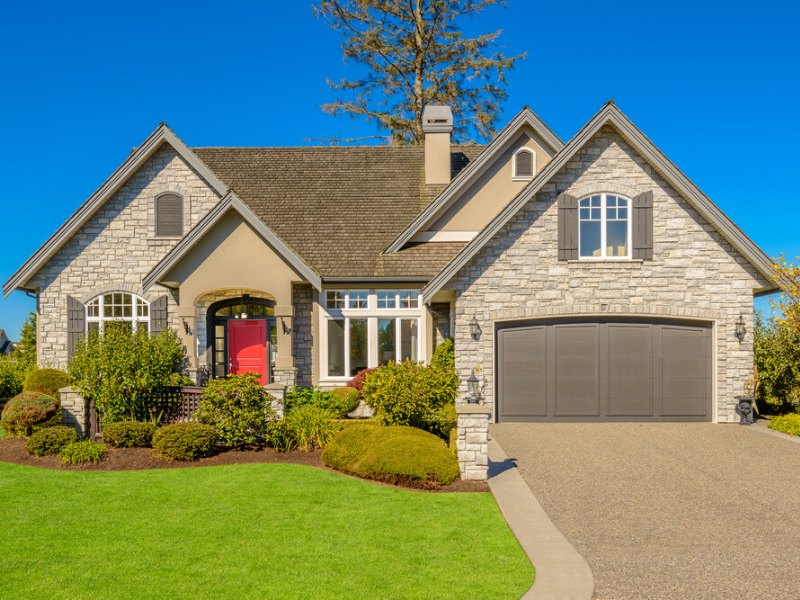 What's the best remodeling project for your home? The answer, in part, depends on where you live. Every year, Remodeling Magazine evaluates which projects bring the most return at resale in different markets around the country in their "Cost vs. Value" report.  For the purposes of this blog, we are focusing on the Pacific states (WA, OR, CA, AL) and the Mountain states (MT, ID, UT, CO, NV).
According to Remodeling Magazine, these are the six top projects in those two regions that currently have the best return on your investment when it comes time to sell. To see the full report, click here.
Garage Door Replacement
The project with the most return from Washington State to Nevada? A new garage door.
In the Pacific States, replacing your garage door will cost an average $3,785, but will increase your resale value by $4,686, recouping 123.8 percent of what you paid for it. Homes in the Mountain States will also benefit from a garage door replacement, recouping 98.6 percent of their costs.
Due to its size, a garage door can have a big impact on a home's curb appeal.  But adding to your home's aesthetic is only one advantage; the warranty that comes with the new garage door is also a selling point for potential buyers who can trust that they likely won't have to deal with any maintenance issues in the near term.
Manufactured Stone Veneer
As long as the new stone veneer is consistent with your neighborhood's overall look, this siding is the second-best project across the Pacific and Mountain states.
Stone veneer can replace your home's existing siding, adding a fresh, modern look that conjures a cozy vibe all the way from the street, before buyers ever step foot inside. Along the West Coast, it can recoup 110.4 percent of the cost when you sell, and Mountain states will recoup 96.5 percent of the cost. 
Wood Deck Addition
While building a deck might seem like a big undertaking, it's actually a pretty cost-effective way to positively impact your home's resale value. Pacific states can expect to pay around $15,000 and Mountain states just above $13,000, but they'll see 87.8 percent and 74.3 percent recouped respectively when they sell.
Adding a deck extends the living space of your home and provides even more area for entertaining, relaxing, and enjoying the outdoors.  Whether you choose a natural wood deck or a low-maintenance composite deck, you can pick from a variety of styles based on the lay of your land and the areas of your backyard you wish to highlight.
Minor Kitchen Remodel
No need to move walls or appliances around, a minor kitchen remodel will do the trick to recoup 87.1 percent of the cost in the Pacific states, and 80.3 percent in the Mountain states.
An outdated kitchen can go from drab to fab and become a focal point with a fresh palette. Replace the cabinet doors with new shaker-style wood panels and metal or metal-looking hardware. Switch out the old counter tops with laminate that matches the new look. Think about adding a resilient flooring option, then finish the project with a fresh coat of paint to the walls, trim, and ceiling.
Grand Entrance
Looking to improve your curb appeal and create an entrance that guests and homebuyers won't soon forget? Add a fiberglass grand entrance. This project involves replacing a standard-sized front door with a larger opening with dual sidelights (glass panels). Typically costing around $8,000, Pacific states will see 85.1 percent of that recouped in the sale, and Mountain states will see 71 percent.
Siding Replacement
Depending on the size of your home, replacing the siding can be an expensive undertaking. However, it's a project that comes with high returns. For Mountain states, sellers can expect 75.4 percent of the costs recouped, and Pacific sellers will see 84.3 percent.
Not only is siding one of the first things a buyer sees, but it also serves as an indicator of the overall health of the home. Broken or damaged siding could mean that there are other problems with the home, such as pests and rot. Replacing old siding is a cost-effective way to boost your home's curb appeal and ensure buyers are going to walk through your front door.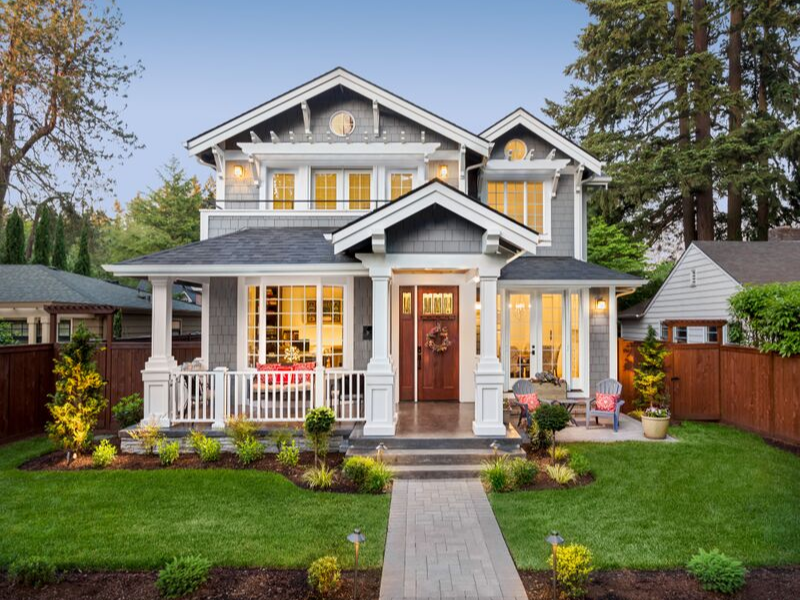 Have you ever rented the unit in someone's basement? Maybe your spouse's mother moved into your "Mother-In-Law Unit" above your garage? Or have you ever traveled and stayed in a pool house for your stay? Commonly referred to as "Mother-In-Law" units, homeowners use these as a way to fill the space in their home and gain residual income, either from vacationers or long-term tenants.
The official terms for these units are Additional Dwelling Units (ADU) or Detached Additional Dwelling Units (DADU's), and are defined as extra spaces in homes and on properties where someone can live completely independent of the main house.
These units can be almost anywhere on the property, but they are usually located in the basement, in the backyard, or above the garage. They have their own bathroom and kitchen facilities, and sometimes they share laundry with the main house.
Thinking of adding a unit to your home? Here are some benefits and risks, as well as important aspects to consider before you build:
Benefits
Homeowners can maximize their investment by renting out the extra space to long-term tenants for short-term vacationers. These tenants can help pay off debt or create an extra stream of income to pay for other needs or wants.
Depending on several factors, including the size of the unit, the market in the area, and other factors, each homeowner should decide which option they are more comfortable with. These decisions should be made before they list the unit for rent to best market to the right audience.
Risks
An obvious risk is that when you open your space to a stranger, there's a possibility that things might end poorly. Either the tenants could turn out to be untrustworthy, or unreliable, leading to a financial burden.
To minimize the risks, it's a good idea to use an application process to check backgrounds and employment history as a tool to get to know the potential tenant. Make sure to adhere to the National Fair Housing Laws and your local regulations.
Things to Consider:
What are the shared spaces?

Would you be comfortable sharing those spaces, and potentially appliances, with a new person each weekend, or would you rather get to know the long-term tenant who would use those on a consistent basis?
Rooms like the kitchen can be great for those who want to get more interaction from their vacation renters. However, sharing one bathroom between the homeowners and the visitors can be uncomfortable and risky.
Would you be okay with a long-term renter using your laundry facilities? What kind of access would they need to the house in order to use those machines?
What is the size of the ADU/DADU?

Is it truly a space where someone could live, or would it be too tight to fit all the necessary appliances?
Does the unit adhere to your local housing codes as a livable space?
How close are the units and what noise level are you comfortable with?

As a long-term landlord, tenants have the right to quiet enjoyment without the landlord barging into their space or controlling their activities. If the unit is in the basement and the tenant has friends or family over, that noise could permeate into your unit in the late hours of the night. A way to prevent this is to be sure to layout quiet hours and expectations before they sign the lease or make an agreement so that you and the tenant are on the same page.
The same goes for the rules in the vacation rental listing. Managing expectations is the first way to create a relationship with the tenants, even those there for the weekend.
What improvements are required to make the unit livable?

Do you need to add a kitchen or a bathroom? What are the costs associated with those improvements and would the market-rate rental prices make up for those improvements? You might not get your money back within the year, but if you're dedicated to making the space worth it to rent it out over the next few years, these improvements, and financial obligations are necessary.
If these initial investments aren't viable for your situation, it might be a good idea to look at other options to earn rent from your home, including adding roommates with whom you're willing to share all the common spaces.
Whatever you decide, it's important to be familiar with the rental market and regulations in both your local region and your neighborhood.
Do you have an ADU or DADU on your property? How do you use it? Let us know in the comments.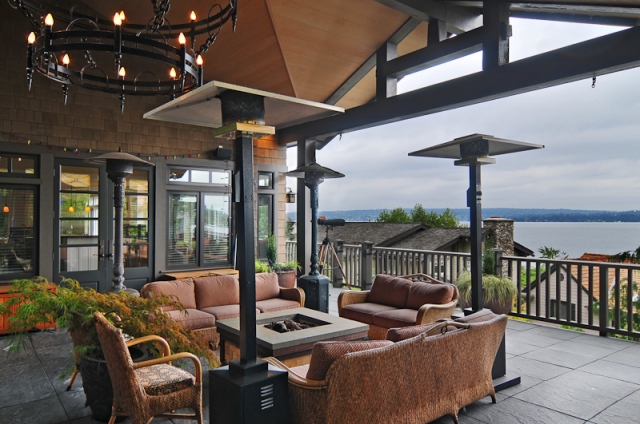 When you love your home but want to make some changes, how do you know where to begin? As a real estate broker and advisor to my clients, I am often asked what improvement projects are most worthwhile or where money is best invested.
In today's market, I am consistently seeing that buyers are looking for the "cream puff" listings. They want a home that is well maintained, "move in" ready, priced well, and in a good location. No surprise there, right?
As I work with clients, whether they are preparing to move now or just looking to improve their home for their own enjoyment, I find a few things that consistently show rewards in the end.
Beginning with maintenance items such as roofing, siding, paint (both interior and exterior), windows, and a couple secret weapons that are often overlooked, which offer a huge impact and are more reasonably priced than you may think, are new garage doors and outdoor fixtures. Remember you never get a second chance to make a first impression!
Outdoor living areas have become all the rage by giving the homeowner an opportunity to add additional entertaining space to their home. The options here are endless depending on your budget and amount of space you have to work with, but this can be a great way to improve the function and finish of your home.
Take a minute to ask yourself, where do I spend most of my time in my home? Kitchen, kitchen, kitchen! We all love to eat and hang out in the kitchen. As a result, improvements here are always a good place to start.
Owner's bedroom suites and bathrooms are also very popular areas for improvement.  The range of options for these areas is vast based again on size and budget.
Consider replacing hard surfaces, base and trim, fixtures, and doors. Think outside the box and ask an expert for help choosing something that might set your home apart. Why use the same six-panel door that everyone has? Change it up a bit. Starting with the solid bones using neutral tones and embellishing with accessories to add a splash of color and your own flair is always a winner!
The more open, clean, and well maintained your home is, the greater your return on your investment will be. Buyers in today's market have access to an abundance of information and have a good eye for short cuts. Work done just to "flip" a home will be called out very quickly! Always ask a professional for advice. You will find your favorite contractor or real estate professional will be more than happy to spend some time helping you make educated decisions that will meet your needs and show long term return.
By Aimee Shriner
Windermere Real Estate/Northeast Inc.
Kirkland, WA
Orignially posted on RGN Construction's blog.
All photos are from www.rgncon.com
Welcome home to 2329 75th Avenue in West Greeley. This 3 bed, 2 bath ranch home features an open layout, kitchen w bar great for entertaining, main floor master, walk in Closet, covered patio, fully fenced low maintenance yard, and an over-sized 3 car garage. Enjoy the Colorado lifestyle in this well kept home with easy access to HWY 34 and all the amenities of West Greeley. Contact Chris Guillan for your private showing at (970) 310-9357 for more information or click the link below for more details.