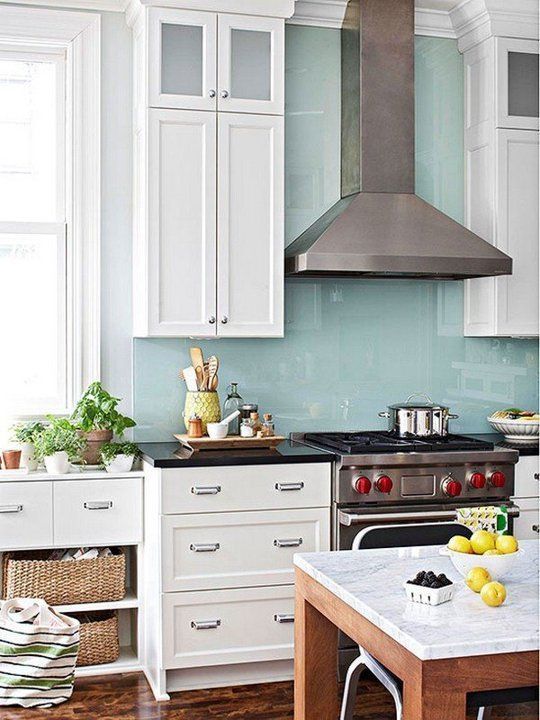 Every chef's kitchen should have a style that matches the delicious food that comes out of it. But even if you're doing little more than making mac and cheese out of a box, your kitchen still can be a place of color and creativity. Kitchen backsplashes are nothing new, but they've seen a recent surge in popularity. We're fortunate to see homes every day with creative takes on this tiling trend, so we decided to showcase some popular backsplash designs to serve as inspiration.
Glass Tile
Image Rights – Better Homes & Gardens
When designing a kitchen, function and flair should work hand in hand. The appeal of glass tiling is that it's easy to clean.
Backing up the functionality is affordability. While glass tiling runs more expensive than ceramic, the cost is typically below stainless steel, and even some stones.
Glass tiling is perfect for those with an artistic flair. Whether it's simply a splash of color, a full mosaic, or even an intricate design, glass tile lets your inner artist shine.
While the initial cost may be greater, glass tiling can more easily be found in pre-set sheets, making DIY installation far easier than many other types of tiles.
Ceramic Tile
Image Rights – Kitchen-Design-Ideas.org
If you need a backsplash that can hold up to consistent use, ceramic tile is a great fit.
The most cost-effective tile to professionally install, ceramic tiling offers a glazed shine with a variety of color options.
Creating a clear, simple, ceramic backsplash is a great way to add a colorful flair to your kitchen.
Between the cost-effectiveness and its low-maintenance nature, ceramic is unsurprisingly the most common type of kitchen tiling.
Metallic Tile 
Image Rights – Architecture Art Designs
Stainless steel is one of the more popular backsplash options for those interested in a metallic finish, but we're also seeing more aluminum, copper, and bronze tiles.
The range in metal type obviously impacts the cost, but most metal tiles are much more expensive than their ceramic counterparts – at least $10 per square foot more.
For that extra cost, however, you'll receive a sturdy backsplash with a modern sheen that is easy to clean.
With stainless steel in particular, consistent maintenance is necessary to avoid a dulling of the backsplash's shine.
Stone Slab
Image Rights – Houzz.com
Sturdy? Check. Waterproof? Check. Classy? Check. From soapstone to marble to granite to good old-fashioned brick, there is no more low-maintenance backsplash base than stone.
For the pleasure of acquiring a stone backsplash, you'll typically pay more than most other materials. Between installation and material cost, the up-front payment can approach $1,000 for less than 30 square feet of wall space.
With a wide range of stone to choose from, a number of color options are available at varying costs.
If that upfront payment is manageable, the results will blend both aesthetics and function, and stone's resiliency makes any follow-up costs minimal.
For an expert DIY challenge, there are many other ways to create a satisfying backsplash that fits your fancy, including vinyl wallpaper, wood, and even beadboard. What's your dream backsplash style?
It's sometimes said that the limitations of a house are what help make it a home. For many, however, it is a point of pride to accept only the finest in their new residence. How can you find the balance between cultivating a lived-in home with personality and quirks versus a house with cutting-edge amenities that improve quality of life? To get to the bottom of that, we gathered a list six keys to consider when selecting and developing the home of your dreams:
The neighborhood
Surprisingly, one of the biggest factors in choosing a new home isn't the property itself, but rather the surrounding neighborhood. While new homes occasionally spring up in established communities, most are built in new developments. The settings are quite different, each with their own unique benefits.
Older neighborhoods often feature tree-lined streets; larger property lots; a wide array of architectural styles; easy walking access to mass transportation, restaurants and local shops; and more established relationships among neighbors.
New developments are better known for wider streets and quiet cul-de-sacs; controlled development; fewer aboveground utilities; more parks; and often newer public facilities (schools, libraries, pools, etc.). There are typically more children in newer communities, as well.
Consider your daily work commute, too. While not always true, older neighborhoods tend to be closer to major employment centers, mass transportation and multiple car routes (neighborhood arterials, highways and freeways).
Design and layout
If you like Victorian, Craftsman or Cape Cod style homes, it used to be that you would have to buy an older home from the appropriate era. But with new-home builders now offering modern takes on those classic designs, that's no longer the case. There are even modern log homes available.
Have you given much thought to your floor plans? If you have your heart set on a family room, an entertainment kitchen, a home office and walk-in closets, you'll likely want to buy a newer home—or plan to do some heavy remodeling of an older home. Unless they've already been remodeled, most older homes feature more basic layouts.
If you have a specific home-décor style in mind, you'll want to take that into consideration, as well. Professional designers say it's best if the style and era of your furnishings match the style and era of your house. But if you are willing to adapt, then the options are wide open.
Materials and craftsmanship
Homes built before material and labor costs spiked in the late 1950s have a reputation for higher-grade lumber and old-world craftsmanship (hardwood floors, old-growth timber supports, ornate siding, artistic molding, etc.).
However, newer homes have the benefit of modern materials and more advanced building codes (copper or polyurethane plumbing, better insulation, double-pane windows, modern electrical wiring, earthquake/ windstorm supports, etc.).
Current condition
The condition of a home for sale is always a top consideration for any buyer. However, age is a factor here, as well. For example, if the exterior of a newer home needs repainting, it's a relatively easy task to determine the cost.  But if it's a home built before the 1970s, you have to also consider the fact that the underlying paint is most likely lead0based, and that the wood siding may have rot or other structural issues that need to be addressed before it can be recoated.
On the flip side, the mechanicals in older homes (lights, heating systems, sump pump, etc.) tend to be better built and last longer.
Outdoor space
One of the great things about older homes is that they usually come with mature trees and bushes already in place. Buyers of new homes may have to wait years for ornamental trees, fruit trees, roses, ferns, cacti and other long-term vegetation to fill in a yard, create shade, provide privacy, and develop into an inviting outdoor space. However, maybe you're one of the many homeowners who prefer the wide-open, low-maintenance benefits of a lightly planted yard.
Car considerations
Like it or not, most of us are extremely dependent on our cars for daily transportation. And here again, you'll find a big difference between newer and older homes. Newer homes almost always feature ample off-street parking: usually a two-car garage and a wide driveway. An older home, depending on just how old it is, may not offer a garage—and if it does, there's often only enough space for one car. For people who don't feel comfortable leaving their car on the street, this alone can be a determining factor.
Finalizing your decision
While the differences between older and newer homes are striking, there's certainly no right or wrong answer. It is a matter of personal taste, and what is available in your desired area. To quickly determine which direction your taste trends, use the information above to make a list of your most desired features, then categorize those according to the type of house in which they're most likely to be found. The results can often be telling.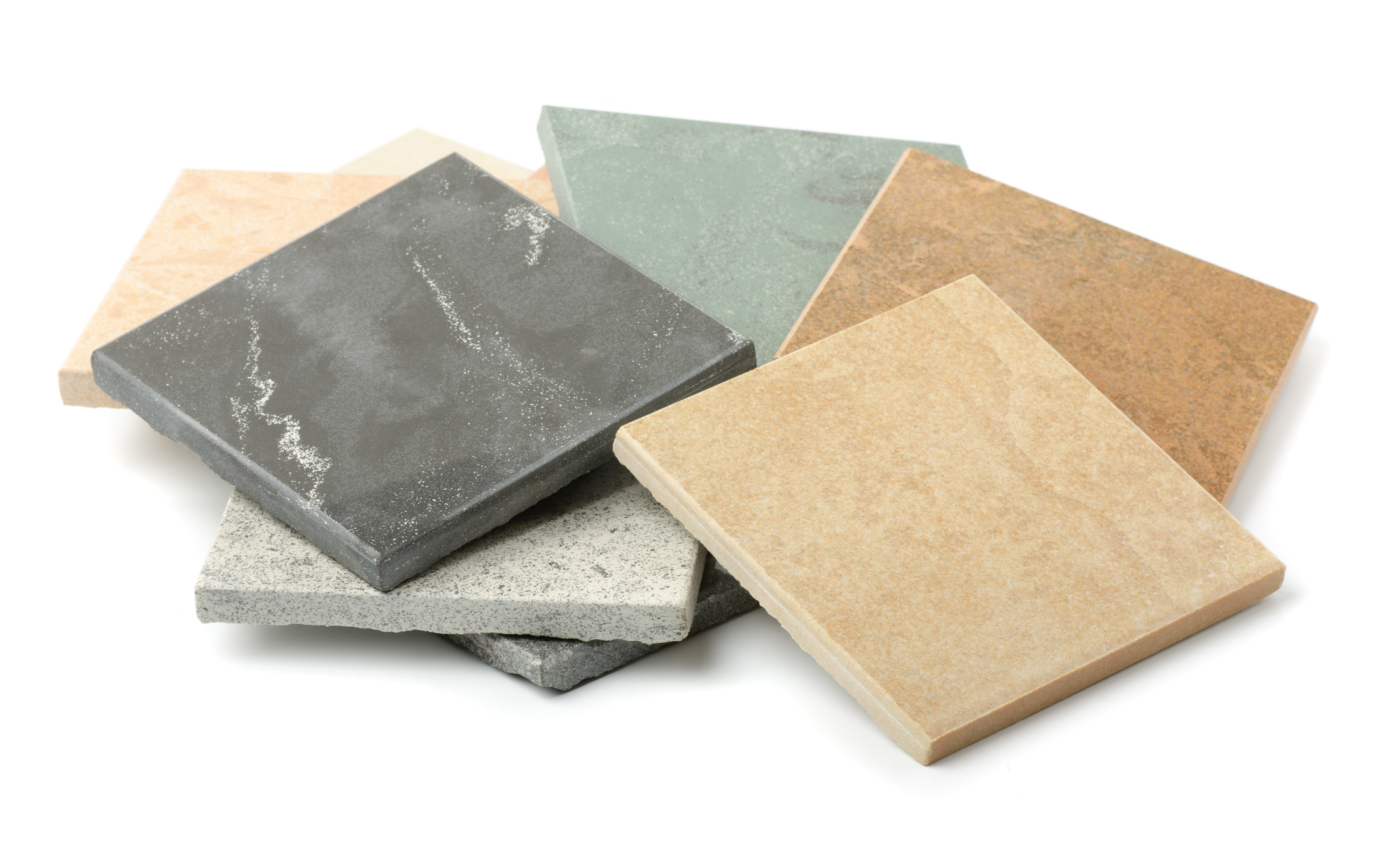 What is it about an accent wall that makes people refer to it as a "wonder wall"?
An accent wall is an emphasized wall in a room that has been designed to attract attention from adjacent walls. The simplest (and cheapest) option to go about an accent wall is by means of paint, though some may opt for wallpaper or tile. Homes with accent walls add a surprise element to a room and define an area of space that deserves attention.
Choosing the right wall
Experts say that the first wall you see upon entering a room is typically the accent wall. In many cases, the wall will have a fireplace or a built-in bookshelf, or something that suggests it is the focal point of the room. In this case, you want to accent that wall by emphasizing the central point with a background color.
Choosing the right color
Color accent walls can add depth and dimension to a room, and make a room seem bigger, warmer, or brighter. If a room is large, consider using warm colors to make the room appear more welcoming, or if the space is smaller, a lighter color can make a room look more spacious. You can visually enlarge or shrink a room by choosing the right color for your room.
Light reflections
Remember to think about how lighting affects the color of a wall. The color you choose may change depending on light sources that reflect on walls. For example, incandescent lights will have a different influence in comparison to natural lighting against walls. Different light sources can affect color choices, so don't forget to experiment with lighting against colored walls.
Tinting the ceiling
Typically, wonder-walls function independently of the ceiling, as they usually remain white. However, by adding a few drops of the wall color paint to a can of ceiling paint, you are able to slightly tint a ceiling. This subtle color scheme can make for a perfect ceiling finish to compliment an accent wall.
How to do it yourself
Painting an accent wall is an easy home improvement or do-it-yourself project. All that is needed is a short list of low-cost products, including:
The directions are simple: tape off the desired wall, spread tarp across the floor, fill any holes or cracks on the wall, sand and smooth out the surface, then paint the accent wall using zigzag strokes.
Painting an accent wall is a great DIY project for anyone to tackle over a weekend or even a few hours. What is your take on the one-wall wonder? Is an accent wall an overstatement, an understatement, or a room well-balanced?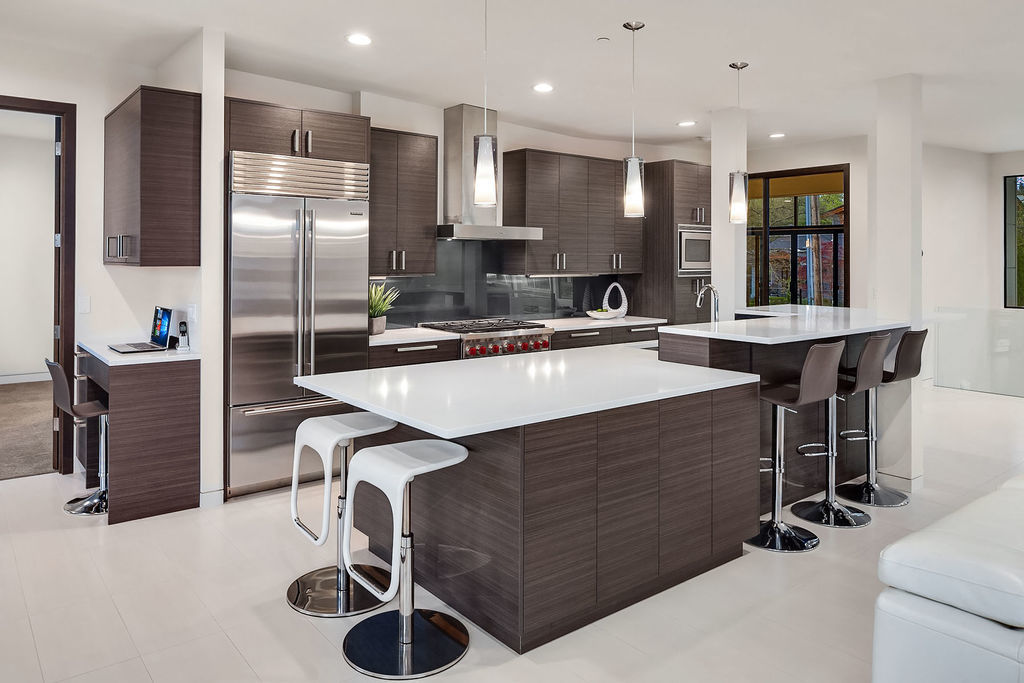 Sleek design, open floor plans, and great natural lighting are all appealing characteristics of modern architecture. Over the years, modern design concepts in home building have become more popular, as is the resurgence of interest in modern real estate. More companies, like 360 modern, are specializing in modern properties. Modern homes vary greatly in style; however, they have some unifying qualities that distinguish them from other properties built over the last 60 years. Here are some characteristics often found in modern homes:
Clean geometric lines: The core of modernist values is the simplification of form. Modernist homes have a very 'linear' feel with straight lines and exposed building materials. Furnishings and adornment reflect this value, incorporating vibrant, geometric and abstract designs.
Modern materials: Large windows are abundant in modern architecture, allowing light to fill and expand the interior space, bringing the natural world indoors. Generally, all exposed building materials are kept close to their natural state, including exposed wood beams, poured concrete floors or countertops, stone walls and stainless steel.
Modern homes are well suited for technological and green upgrades, as well including eco-friendly building materials and energy efficient practices. Flat roofs accommodate solar power. Energy efficient appliances work with the aesthetics of modern homes. Modernist landscaping need not require water-thirsty lawns but instead can reflect local flora.
Post-and-beam structure: One classic element in modern architecture is the exposed wood posts and ceiling beams. This style of building has been around for thousands of years; however, modern homes really emphasize the structure, rather than hiding the bones behind drywall.  In new modern homes, the post-and-beam structure can be made out of concrete, iron or other materials. The highly visible horizontal and vertical beams reinforce the clean geometric lines of the space.
Low-pitched gable or shed roof: One of the most differential characteristics of modern homes than more traditional home design is the shape of the roof. Classic modern homes on the west coast generally have a flat or low-pitched roof, highly influenced by architect Joseph Eichler. New urban homes also leverage rooftops for outdoor entertaining space.
Open floor plan:  Modern design strives to "open" the space by eliminating enclosed rooms. For example opening the kitchen and dining room into an open living space, allowing the 'rooms' to flow into one another.
Large windows: Natural light and the incorporation of natural elements are important aspects of modern home design. Large, floor-to-ceiling windows illuminate the open space and highlight the natural landscape. Some new modern homes have adjusted the large windows to open, diminishing the barrier between the indoors and out.
Incorporation of outdoor elements: Frank Lloyd Wright, one of the pioneering modernist architects, incorporated the natural setting into his architecture, most famously with Falling Water. Outdoor elements are incorporated into modern architecture in many ways; through large windows, landscaped terraces, and patios, and through use of natural and organic materials in the building including stone walls, and more.
Minimalism: With open and connected modernist spaces, careful curation of furniture, adornments, and household objects is important to preserving the modernist aesthetic. Generally, modernist homes have art and furniture that reflects the clean geometric lines and the natural materials of the architecture, leaving less space for clutter. Minimalist philosophies of few household items that serve both form and function work well within this design and architectural style.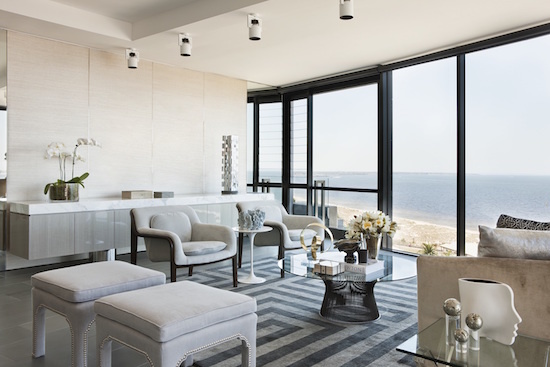 As we celebrate our 45th anniversary here at Windermere, we're feeling a bit nostalgic. The fundamentals of helping our clients buy and sell homes haven't changed much over the past 45 years, but the way we decorate our homes sure has. Let's take a trip down memory lane and explore interior design trends from the past four decades—the good (farmhouse sinks), the bad (macramé owls), and the ill-advised (carpeted bathrooms!).
1970s
Inspired by the hippie movement, interior design in the 1970s centered around bringing the outdoors inside. Wood paneling could be found in bedrooms and basements alike, and wood accents adorned appliances in the kitchen.
Earth tones dominated throughout the house. If your refrigerator wasn't avocado or burnt sienna and your shag carpet wasn't harvest gold, you were not keeping up with the times.
1980s
In the 1980s, we wanted to make homes as cozy as possible, which for a lot of folks meant chintz, Laura Ashley–inspired florals, and tons of pastels.
The "country" look gained huge popularity during this decade as well. Even high-rise city apartments were filled with objects that seemed more at home on a ranch in Texas, including bleached cow skulls and weathered-wood dining tables and chairs.
1990s
Perhaps as a reaction to the excess of the decade before, the 1990s saw a rise in Japanese-inspired minimalism. Sparsely furnished rooms with rock gardens, clean lines, and simple colors were all the rage.
On the opposite end of that spectrum was the shabby chic craze. Distressed furniture, soft colors, and oversized textiles combined to create this look.
Texturized walls were also a big hit. Wall paper and paint brushes were out, and sponges became the way to get the chicest look for your home.
2000s
It's hard to believe, but we're nearly a decade out from the early aughts. And that perspective makes it easier to spot trends that felt of-the-moment only a few years ago but are waning in popularity today. One example is Tuscan-style kitchens. It seemed every new home—especially homes on the upper end of the market—included a kitchen with stone tiles, granite countertops, hanging vines, and beige and tan tones.
Another popular item from the early 2000s that is now facing a bit of a backlash is mason jars. Once a staple of homes looking to incorporate a rustic feel, mason jars are now so common in decorating both homes and restaurants that they no longer feel special or nostalgic.
Today
Trends are always evolving, but if you're looking for some cutting-edge interior design ideas for 2018, here are a couple to consider.
Embrace super saturated colors, especially warmer tones like yellow and red. These bold hues no longer need to be saved for accent pieces like pillows or lamps. Larger pieces of furniture and entire walls make a bigger splash.
Incorporate geometric patterns. There's really no wrong way to get on board with this trend. Whether your couch features large circles, you add patterned backsplash in your kitchen, or you cover your ceiling with octagonal wallpaper, geometric shapes will help your home feel fresh.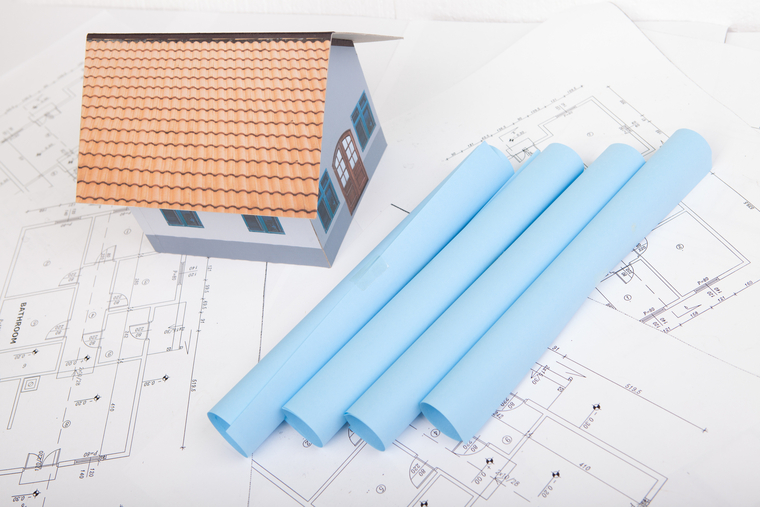 Adding on to your current home may be your best bet if you're short on space, but you don't want to move or can't find another house in the area with all the qualities you're seeking. It's also an attractive option if the house you have is lacking just one significant element (a family room, another bedroom, a larger kitchen, a separate apartment, etc.).
On the other hand, even a modest addition can turn into a major construction project, with architects and contractors to manage, construction workers traipsing through your home, hammers pounding, and sawdust everywhere. And although new additions can be a very good investment, the cost per-square-foot is typically more than building a new home, and much more than buying a larger existing home.
Define your needs
To determine if an addition makes sense for your particular situation, start by defining exactly what it is you want and need. By focusing on core needs, you won't get carried away with a wish list that can push the project out of reach financially.
If it's a matter of needing more space, be specific. For example, instead of just jotting down "more kitchen space," figure out just how much more space is going to make the difference, e.g., "150 square feet of floor space and six additional feet of counter space."
If the addition will be for aging parents, consult with their doctors or an age-in-place expert to define exactly what they'll require for living conditions, both now and over the next five to ten years.
Types of additions
Bump-out addition—"Bumping out" one of more walls to make a first floor room slightly larger is something most homeowners think about at one time or another. However, when you consider the work required, and the limited amount of space created, it often figures to be one of your most expensive approaches.
First floor addition—Adding a whole new room (or rooms) to the first floor of your home is one of the most common ways to add a family room, apartment or sunroom. But this approach can also take away yard space.
Dormer addition—For homes with steep rooflines, adding an upper floor dormer may be all that's needed to transform an awkward space with limited headroom. The cost is affordable and, when done well, a dormer can also improve the curb-appeal of your house.
Second-story addition—For homes without an upper floor, adding a second story can double the size of the house without reducing surrounding yard space.
Garage addition—Building above the garage is ideal for a space that requires more privacy, such as a rentable apartment, a teen's bedroom, guest bedroom, guest quarters, or a family bonus room.
Permits required
You'll need a building permit to construct an addition—which will require professional blueprints. Your local building department will not only want to make sure that the addition adheres to the latest building codes, but also ensure it isn't too tall for the neighborhood or positioned too close to the property line. Some building departments will also want to ask your neighbors for their input before giving you the go-ahead.
Requirements for a legal apartment
While the idea of having a renter that provides an additional stream of revenue may be enticing, the realities of building and renting a legal add-on apartment can be sobering. Among the things you'll need to consider:
Special permitting—Some communities don't like the idea of "mother-in-law" units and therefore have regulations against it, or zone-approval requirements.
Separate utilities—In many cities, you can't charge a tenant for heat, electricity, and water unless utilities are separated from the rest of the house (and separately controlled by the tenant).
ADU Requirements—When building an "accessory dwelling unit" (the formal name for a second dwelling located on a property where a primary residence already exists), building codes often contain special requirements regarding emergency exists, windows, ceiling height, off-street parking spaces, the location of main entrances, the number of bedrooms, and more.
In addition, renters have special rights while landlords have added responsibilities. You'll need to learn those rights and responsibilities and be prepared to adhere to them.
Average costs
The cost to construct an addition depends on a wide variety of factors, such as the quality of materials used, the laborers doing the work, the type of addition and its size, the age of your house and its current condition. For ballpark purposes, however, you can figure on spending about $200 per square food if your home is located in a more expensive real estate area, or about $100 per food in a lower-priced market.
You might be wondering how much of that money might the project return if you were to sell the home a couple years later? The answer to that question depends on the aforementioned details; but the average "recoup" rate for a family-room addition is typically more than 80 percent.
The bottom line
While you should certainly research the existing-home marketplace before hiring an architect to map out the plans, building an addition onto your current home can be a great way to expand your living quarters, customize your home, and remain in the same neighborhood.