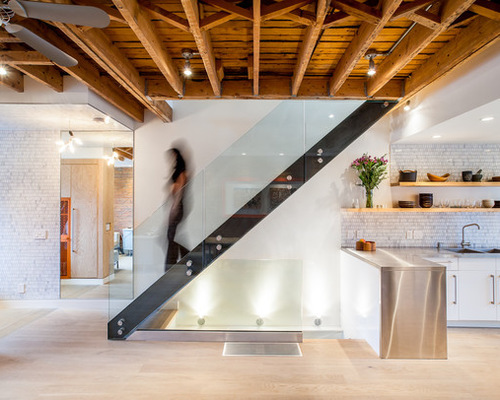 Anyone who has built, designed or remodeled a home has heard the term "built to code" and people saying, "The code requires it to be like that." And when we hear things like this, we tend to think we're getting a house designed and built to the highest standard.
But that's not necessarily so. What the building codes do is establish an absolute minimum standard. This minimum may not be what you need in your home. You could, in fact, easily have needs that require the design and construction of your home to exceed code.
Load Codes 1: Wanda Ely Architect Inc, original photo on Houzz
This is especially the case when it comes to structural items. While the code mandates that structural systems be designed to support certain minimum loads, and to do so within certain tolerances, these minimums and tolerances may not be what you actually need. Who wants to live in a house where the floors are so bouncy that you feel like you're walking on a trampoline? And what happens when you decide to move a water bed into the bedroom next to that stack of heavy books you cherish? Will you need to have your floor joists doubled up under that big soaking tub you are planning?
It's wise to think about particular situations like this and look at the code mandates as a starting place, not the finish.
Load Codes 2: Bud Dietrich AIA, original photo on Houzz
Weight Loads
Building codes establish many project requirements, not the least of which is the project's structure. This holds true no matter what material the house will be built of. And a key to designing a structural system is to determine what loads, or weights, will be imposed.
So we first have to look at what the house will be made of (wood, concrete, steel, masonry etc.) to determine the dead load — the weight of materials used in the permanent construction of the house. Note that it doesn't include items like furniture, people, toys, books, television sets etc. and will vary only a little bit over the lifetime of the house.
Next we use the governing building code to determine what the minimum live load — the impact of movable objects such as furniture and people — will be. For example, per code, the main living areas of a house have to be able to accommodate a uniform live load of 40 pounds per square foot. Bedrooms have a code requirement of 30 pounds per square foot, and roof structures have a varying live load, depending on climate (more snow equals more weight) and roof pitch (steeper roofs will shed snow faster).
Load Codes 3: Bud Dietrich AIA, original photo on Houzz
But the code-mandated uniform loading may not accommodate all of your furniture and books, that large cast iron soaking tub, your water bed etc. So you'll want to identify any items that this code-mandated requirement won't accommodate and design the structure accordingly. Otherwise, the extra weight of these items can cause the structure to fail.
When we say a structure has failed, we don't necessarily mean the house has collapsed. Failure can simply mean a part of the structure has failed so there's too much deflection. This will result in uneven floors, gaps between walls and floors, and so on.
Load Codes 4: Bud Dietrich AIA, original photo on Houzz
Deflection
Deflection is the distance that a structural member (say, a floor joist) will bend when a load is placed on it. The greater the distance, the more the deflection and the less level the floor.
In addition to holding up a certain load, a structure has to stay rigid and keep its shape. But that's nearly impossible, as any structure will start to deflect the moment any load is placed on it.
The code requires that this deflection be limited to L/360, where L is the length of the unsupported span. This means that for a floor structure that spans 18 feet (not uncommon in newer homes with open floor plans), the maximum allowable deflection is 0.6 inches.
In other words, a floor can sag more than a half inch and still be deemed OK. So some architects and engineers will use L/480 to calculate the allowable deflection. For an 18-foot span, using L/480 would limit the amount of deflection to 0.45 inches.
While the difference between 0.6 and 0.45 inches may seem insignificant, it really isn't when it comes to a floor structure that gets walked on all the time.
Load Codes 5: LDa Architecture & Interiors, original photo on Houzz
If you're designing or remodeling a house, have a conversation with your architect and builder about what you plan to put into your home and how the structure will accommodate it.
By Bud Dietrich AIA, Houzz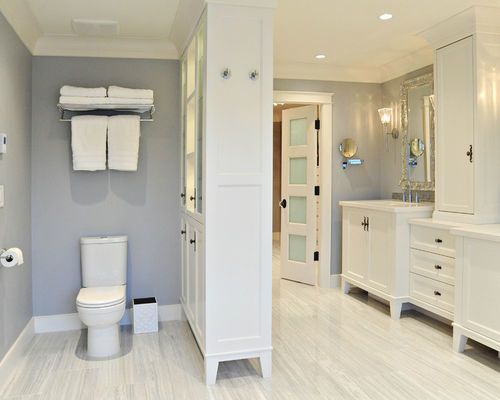 From the beginning of your bathroom renovation, your plumbers and framers need to know where your toilet should go — whether it'll be mounted on the floor or wall and where the water supply should be positioned. If that's not complicated enough, wall paneling, tile installation, shower doors and baseboards will all factor into the equation for your toilet location, too.
Don't feel overwhelmed — finding the right professional can help you get through the technical stuff, and having a handle on these tips and tricks can help you find a spot for your toilet that works for you and your bathroom's design.
Toilet 1: Enviable Designs Inc, original photo on Houzz
Take Note of Wall Panels and Baseboards
Most toilets are roughed-in 12 inches from the finished wall. This works well for most floor-mounted toilets.
Tip: Some toilets require floor anchoring clips — another limiting factor because it can interrupt radiant heating. Talk with your floor heating contractor before choosing this type of toilet to make sure that the anchors won't mess with water lines or heating cables.
Toilet 2: kbcdevelopments, original photo on Houzz
What a classic bathroom — I love it. The look and feel of the toilet fits in with the baseboard and crown molding perfectly. I would guess the baseboard wraps behind the toilet for a seamless look.
Tip: It's very hard to paint behind toilet tanks like this. I suggest painting the wall and installing the baseboard before putting the toilet in.
Plan Out Your Shower First
If you're planning on having a barrier-free shower near your toilet, consider installing a wall-mount toilet to make waterproofing measures simpler for your contractor.
Toilet 3: Beyond Beige Interior Design Inc, original photo on Houzz
Shower doors also play a role in your toilet's location. To meet building codes, a shower door needs to open both in and out, so you'll want to take the door swing into account when choosing your toilet spot.
Tip: Work with your contractor to play with different toilet and door locations when finalizing your shower's size. Use a piece of string and a marker to draw an arc on the floor to show the door swing. This will help you visualize where a toilet can fit comfortably.
Decide on a Wall Mount or Floor Mount
Installing a wall-mount toilet is a chore. All of them require a wall carrier to support the toilet, and some have very exact water supply positions, which allows for little flexibility in location. However, the look is seamless and modern and has some functional benefits as well.
Tip: A standard toilet is 14 to 15 inches high from the finished floor to the top of the bowl (excluding the fold-down seat). Consider a higher measurement of 16 to 18 inches for your wall-mounted toilet if you plan on aging into your golden years. It may seem high now, but you'll be thankful for the added height later.
Toilet 4: kbcdevelopments, original photo on Houzz
Wall-mounted toilets are great for smaller spaces because the tank is inside the wall. In this installation, you can see that the builder brought the wall forward for this wall-mounted toilet's water carrier to create a ledge above the sink and toilet for the flush activator. Usually these ledges are larger, and I love the smaller version here.
Toilet 5: Fixture Universe, original photo on Houzz
During installation, most toilets are dropped in over two bolts and the bolts are trimmed and capped to keep the toilet in place. Many clean line toilets (which are great for easy cleaning) have separate mounting blocks, and the toilet is screwed into place from the two sides. This Duravit toilet has those great clean lines, but the same easy installation as a regular toilet.
Tip: We have a 10-flush rule with any new toilet. After it's installed but before using any silicone, we flush the toilet 10 times back to back to make sure everything's functioning properly.
Note that floor-mounted and wall-mounted toilets come in regular and elongated versions. If you're tight on space, look for a regular or smaller model.
Toilet 6: Bill Fry Construction – Wm. H. Fry Const. Co., original photo on Houzz
Pay Attention to Any Recesses or Compartments
In this photo, the recessed shelves above the toilet allow for more headroom and save space. This clever use of space was no doubt made possible by good planning. Make sure your entire building crew knows about spaces like this ahead of time for a successful build.
Tip: Check that your builders spray paint the framing around these niche locations before any wires, pipes or insulation is installed.
If you are planning a toilet compartment, the NKBA recommends a space about 36 by 66 inches, with a 32-inch-wide doorway. The absolute minimum would be 30 by 60 inches, which leaves just 15 inches of space on either side of the toilet rough-in.
Tip: If you're worried about the bottom of your toilet scratching your floor tile or hardwood during installation, consider using scraps of Kerdi waterproofing membrane on the bottom of the toilet. Anything that will stick to the toilet bottom — extra peel-'n-stick tiles, scraps of linoleum, etc. — can work.
By JW, Houzz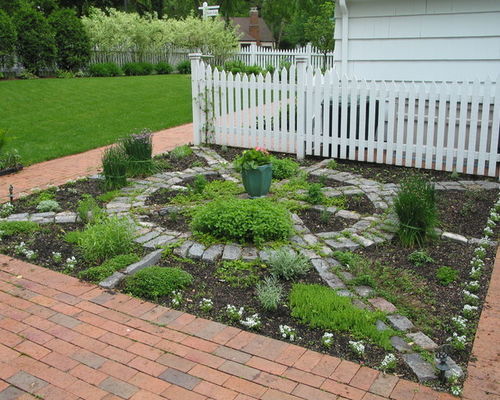 Temperatures may be dropping, but that doesn't mean we have to bid farewell to our herb gardens. Cold-hardy herbs, such as chives, mint, oregano, parsley, sage and thyme, can often survive cold-winter temperatures while continuing to produce flavorful foliage, as long as they are provided with some protection or grown indoors. Even herbs like rosemary that are more cold-sensitive can survive winter using additional methods of protection. Let's explore different ways we can prolong the herb harvest and enjoy the fresh taste of our favorite herbs throughout the cold of winter.
Herbs 1: Bachman's Landscape Design – Tom Haugo, original photo on Houzz
Herbs 2: Home & Garden Design, Atlanta – Danna Cain, ASLA, original photo on Houzz
A glass cloche protects plants in the center of this raised bed in Atlanta.
1. Protect herbs from the cold by placing them in a cold frame or cloche. Covering herbs helps trap the heat that rises from the soil, elevating the temperature inside by several degrees. This can extend the growing season in both fall and spring.
Cold frames are topped with glass panes that slope downward and are situated so they face south. This ensures that the most sunlight will reach the plants inside, creating an environment that is several degrees warmer than outside.
Cloches are a smaller and more portable way to protect plants from the cold. Traditional ones are bell-shaped and made from glass. They can be expensive, but you can make your own by cutting off the bottom of a 1-gallon plastic milk jug or other large plastic container. Place each one over individual herb plants and nestle the bottom inch or two of the cloche into the soil to anchor it.
Herbs 3: The Room Illuminated, original photo on Houzz
2. Add a thick layer of coarse mulch over herbs. Many herbs can grow through the winter under the insulation provided from straw, shredded bark or other coarse mulch. In areas that experience moderate-winter cold, USDA Zone 6 and warmer, herbs will continue to produce some new growth despite some winter cold. Simply pull back the mulch and cut the herbs you need, then cover them back up. While they won't produce as much new growth as they do in the warm season, you should be able to obtain a small harvest. Don't worry if a layer of snow falls, as it will provide additional insulation for the herbs below. Once spring arrives, you can turn the mulch into the soil.
3. Pot up herbs and move them into a frost-free greenhouse or sun porch. If you're growing herbs in the ground, you can transfer them to pots and move them to a protected spot. Select the herbs you want to keep growing over winter, such as chives, oregano, sage and thyme. Cut them back to 1 inch tall and, using a sharp shovel, divide them at their base, making sure to include the roots so each one will fit into the container. Use well-draining planting mix in the containers and plant each herb in a separate pot. They will grow back and you'll be able to harvest their flavorful leaves until you transplant them back into the garden once spring arrives.
Related: Move Herbs to a Sunroom for Full Sun
Herbs 4: J M Interiors, original photo on Houzz
4. Grow herbs in front of a sunny window. Herbs can be grown from seed or cuttings and make a great addition to a sunny kitchen window that gets at least six hours of sunlight. If using artificial lighting, 14 hours is usually sufficient. The temperature should range between 60 and 70 degrees Fahrenheit, or 15.6 and 21.1 degrees Celsius, for best results. You can transplant herbs from the garden or begin from scratch by sowing seed.
The rewards of growing herbs indoors throughout the winter are great when the fresh flavor of summer is within arm's reach. Chives, oregano, parsley and thyme are just a few of the easiest herbs to grow on a sunny windowsill. Use a well-draining planting mix in your container. Water deeply when the top inch of soil is almost completely dry.
Herbs 5: Noelle Johnson Landscape Consulting, original photo on Houzz
5. Extend the life of fresh herbs by putting them in water. Herbs such as basil and mint grow quickly when placed in a container of water for a few weeks. Other herbs that work well in water are sage, oregano and thyme. When placed in water, they begin to produce roots and will grow new leaves. This is a useful way to prolong the harvest, whether you bring in cuttings from the garden or buy fresh herbs at the grocery store.
The process is easy. Simply cut the ends of each stem and put them in a small jar or cup filled with water. Be sure to remove any lower leaves so they won't be submerged in the water. Place on a sunny windowsill.
The leaves produced indoors will be thinner and slightly less flavorful than those grown outdoors but will still add welcome flavor to your favorite dishes. Refill the water as needed and enjoy the prolonged harvest for several weeks to come.
By Noelle Johnson, Houzz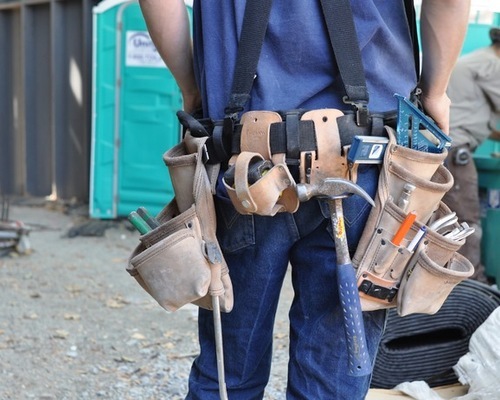 Constructing or remodeling a home is a complex, expensive endeavor. Ideally, everything goes as planned, and when the dust clears, the homeowner can settle in and enjoy the new home — and never think about the building process again.
But what happens when, nine months after the owner moves in, the floor develops a crack, the dishwasher begins to leak or the shower water won't run hot? Or when these things happen three years later? It's time to refer to an all-important piece of the contract: the warranty.
Janet Paik, original photo on Houzz
What Is a Warranty?
The purpose of a warranty is to protect both the homeowner and the builder — homeowners from shoddy work with no recourse; builders from being liable for projects for the rest of their lives.
A warranty may be included in a contract, or it may not be since it's not required. There is no standard length of time for one. Rather, a warranty is a negotiable portion of the overall agreement (contract) between a homeowner and a contractor.
The laws that relate to warranties are somewhat vague and vary by state, so the advantage of having one as part of the contract is that everything can be clearly spelled out. However, by agreeing to a particular warranty without understanding its finer points, owners may inadvertently limit the protections they would have otherwise had under the law.
"A warranty describes the problems and remedies for which the builder will be responsible after completion of the project, as well as the duration of the warranty and the mechanism for addressing disputes," says David Jaffe, vice president of legal advocacy at the National Association of Home Builders.
At least in the ideal case.
Janet Paik, original photo on Houzz
The Law Governing Warranties
Before homeowners agree to a particular warranty as part of their contract, it's important to understand what protections they already have under the law. In the U.S., we have a legal concept of an implied warranty — which is a warranty that does not have to be spelled out in the contract but is simply understood to exist thanks to the law. There are two important implied warranties when it comes to home construction.
The first is the implied warranty of good workmanship, which is the reasonable expectation that a home will be built in a workmanlike manner. The second is the implied warranty of habitability, which is the reasonable expectation that the home will be safe to inhabit.
The implied warranties, however, have limits in the form of statutes of limitation and statutes of repose, which essentially are time clocks that determine for how long a homeowner may sue a contractor.
Statutes of limitation in each state dictate how long an owner can invoke various types of legal claims — for example, a breach of contract claim.
Statutes of repose apply specifically to construction projects, and set the time for which builders and designers are liable for their product. These also vary by state. In California, the statute of repose is four years for most defects, but 10 years for latentdefects (those that aren't observable right away, such as a faulty foundation). In Georgia, the statute of repose is eight years for all claims related to design or construction of the building.
Finally, most states also have a right to repair law, which means that before homeowners can sue a contractor, they need to notify the contractor of the problem and give him or her a chance to come see it and repair it.
To find out what the laws are in your state, simply do an online search for "statute of repose" and "right to repair" in your state.
Janet Paik, original photo on Houzz
The One-Year Warranty
The key thing to understand about warranties is that many builders offer their own warranty in lieu of the implied warranty. Additionally, many contracts specify that homeowners are giving up their rights to the implied warranty by agreeing to the builder's express warranty. Also, builders will "often try to shorten statutes of limitation and statutes of repose. Some states allow you to do that. Others don't," says Anthony Lehman, an Atlanta attorney who advises homeowners.
Though there is no industry-wide standard, many residential contractors have adopted a one-year warranty for their contracts. The practice likely trickled down from commercial construction, where a callback warranty is typical. A callback warranty means that within one year, a building owner has the right to call back the contractor and expect him or her to repair work, Lehman says.
The downside for homeowners who agree to a one-year warranty is that they likely trade away their right to the implied warranty, and they may also agree to limit the time they have to discover a defect and sue. Obviously, this is a plus for builders because it limits their risk.
But there is no real reason a homeowner has to accept a one-year warranty simply because that's the builder's first offer. "It's a negotiated point, and people can negotiate warranties that are broader — and they often do," says Robert C. Procter, outside general counsel for the Wisconsin Builders Association. "If you don't ask for more, you won't get more."
Janet Paik, original photo on Houzz
Pros and Cons of a Builder's Warranty
Though a one-year warranty may seem like a poor deal for a homeowner, a contract with details spelled out does provide an upside: some degree of clarity in the process. Ideally, a warranty includes not only the time period that the warranty covers, but also the standards by which various materials will be evaluated, and the steps to follow when a problem arises.
In a minority of states, the legislature has codified what a warranty is and how long it lasts for a variety of materials, Jaffe says. They are California, Connecticut, Indiana, Louisiana, Maine, Maryland, Minnesota, Mississippi, New Jersey, New York, Pennsylvania, Texas and Virginia. If you live in one of these states, you can refer to the state-set standards.
If you do not, one option is to refer to the NAHB's publication Residential Construction Performance Guidelines. "It's broken down by categories within the home: foundations, exterior, interior, roofing, plumbing," Jaffe says. "If there's an issue that comes up, you look in this publication, and it tells you what the observation is — what's the problem." The guide then spells out what the corrective measure — if any — should be.
If you decide to use this guide as the standards by which problems will be judged, be sure you read it first and are comfortable with its terms. Sometimes having the terms spelled out is simpler than relying on the implied warranty because the implied warranty is so vague.
"The implied warranty doesn't have a fixed time; it's a reasonable period of time," says Jaffe, of the NAHB. "If you're a homeowner, and you call your builder up in year five and say, 'There's a crack here, and I think you should come out and fix it because it's a defect,' well, at that point, it may or may not be related to something that the builder did or didn't do. Is it a defect? Who is going to make that determination? What is the fix? Who is responsible for it?"
Relying on the implied warranty means that these sorts of questions would need to be resolved in court if the parties aren't willing to, or can't, come to an agreement on their own. Open for debate is whether an item is a warranty item, and for how long it's covered. Having these issues determined in court can be an expensive, time-consuming headache for everyone involved.
Still, some attorneys say owners might be better off with the implied warranty than giving up their rights for a limited one provided by the builder. "You build a house, and you expect it to be there for a long time. The buildings in Europe have been there a long time. The pyramids have been there a long time. The question is how long is it reasonable for you to expect it to last," says Susan Linden McGreevy, an attorney in Kansas City, Kansas, who specializes in commercial real estate work. "If it has to get before a jury, the contractor has lost already. What I mean is, the jury will always find in favor of a homeowner — unless they're a real flake."
TruexCullins Architecture + Interior Design, original photo on Houzz
Going Beyond Warranties
Despite all this talk of legalities, there is an important caveat: Many good builders will continue to be helpful even after their express warranty has passed. Anne Higuera, co-owner of Ventana Construction in Seattle, provides a one-year warranty to her clients. Nonetheless, Ventana has made repairs and fixes even years after the one-year warranty expired. Higuera says the company does so because the builders want good relationships with their customers, and because they feel as though it's the right thing to do. "Warranty issues come up very rarely if you do things well in the first place," Higuera says. "Just finding a contractor who does the right thing on the front end helps you avoid issues with warranty."
More Ways to Protect Yourself
So what should homeowners do if a builder is offering only a one-year warranty? One option is to negotiate for a longer period of time. "You might want to say, 'I'll take a one-year warranty for everything except latent defects,'" McGreevey says. (Reminder: Those are the kind that take a long time to discover, such as foundation problems.)
Another option owners have is to ask builders about insurance products. Many builders offer products with an extended warranty — as long as 10 years — that are backed by insurance companies. These are typically paid for by the builder, with the cost passed on to the homeowner.
Third, homeowners would be wise to consult an attorney to make sure that they're not giving up rights unknowingly. Given that owners are spending thousands to hundreds of thousands of dollars on construction, paying for five to 10 hours of an attorney's time (at $300 per hour, $1,500 to $3,000) to ensure that the contract is sound is probably a good investment. "Would you buy a car for $50,000 and not read any of the financing information?" says Lehman, the Atlanta attorney. "And then people do that for a home construction project."
Finally, the most important thing is for both contractors and owners to screen each other carefully. "Ninety-eight percent of the homeowner-builder relationships, when there's a disagreement, most parties reach a reasonable conclusion, even if they're not 100 percent happy," says Procter, the Wisconsin attorney. "The contracts matter more when someone is not being reasonable."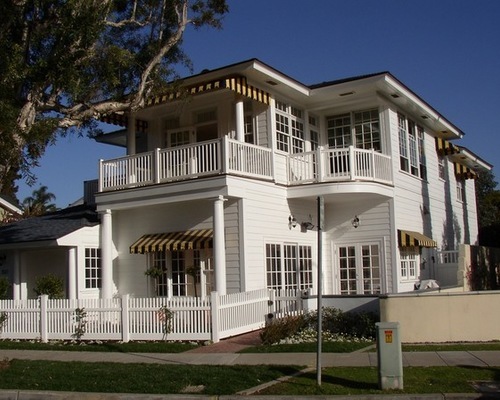 Awnings are a valuable home design element that our grandparents knew all about. In the days before air conditioning, they were used to shade interiors and help keep homes cool. With the focus on sustainable design today, there's renewed interest in the power of awnings. They block the sun from entering the house and warming it on hot days, and can be removed or retracted during the winter months when you're craving light and warmth. Depending on the fabric you choose, they can also keep harmful UV rays from damaging your skin and fading your fabrics.
Awnings 1: Flagg Coastal Homes, original photo on Houzz
Window awnings can reduce solar heat gain in the summer by up to 65% on south-facing windows and 77% on west-facing windows, according to the U.S. Department of Energy. Besides all of that great money- and energy-saving function, awnings are an aesthetic asset. Colorful materials, stripes and scalloped edges are just a few of the options. Awnings bring softness, pattern, color and nostalgic charm to a home's facade.
This photo shows awnings at work — you can see the shadows they create and how they're protecting the interiors and the second-floor balcony area from the sun's rays. Aesthetically, the stripes break up the white on the home — they are the home's flirty false eyelashes.
Awnings 2: Christina Karras, original photo on Houzz
The retractable awning is curb appeal gold and transforms a space out front into a shady outdoor room. This style of retractable awning has poles that help support it, but there are other options that don't require the added support.
Retractable awnings that don't require support poles have retractable arms to support them. This provides a cleaner look. These can extend up to 14 feet.
Awnings 3: Exteriors by Chad Robert, original photo on Houzz
This style of awning, called a spear awning, adds to the style of the home. The decorative wrought iron rods have finials that pick up on the iron lantern and metal furniture frames on the patio.
These awnings are easily rolled up by hand when inclement weather is expected.(You will need to retract awnings when high winds are predicted. The awning company will let you know how many miles per hour their products can withstand.) There are also motorized versions on the market. Factors to consider when deciding whether to go hand-cranked or motorized include the ease of simply pushing a button versus the increased cost of the product, installation and maintenance.
"The motor is an up-charge and usually adds another $800 to the cost of the awning," says Sandy Price of PYC Awnings. "The motor comes with a 12-foot cord and a plug, or you have an electrician hard-wire it for you." (That cost is not included in the $800.) By the way, motorized awnings come with a hand crank in case the power goes out.
Awnings 4: Our Town Plans, original photo on Houzz
This roller shade protects those on the porch from the sun and wind. "It has a cable on each side that passes through rings at the bottom of the shade to keep it from flapping in the wind," says Suzanne Stern of Our Town Plans. The shade has a crank for rolling it up and down by hand (which you can make out on the left side of this photo if you really squint).
Related: Patio Details: Awning-Covered Patio and Playhouse for a Shared Property
Stern also notes that this solution doesn't change the look of the column and that the shade can be rolled all the way down below the railing.
Awnings 5: Becky Harris, original photo on Houzz
These valance awnings on a house on Florida's Marco Island are more decorative than functional. They're installed across extensive porches and tie into larger retractable awnings used in other spots on the home. "The customer used the Costa Track installation so they wouldn't see any hardware and did a ceiling-mount installation," Price says.