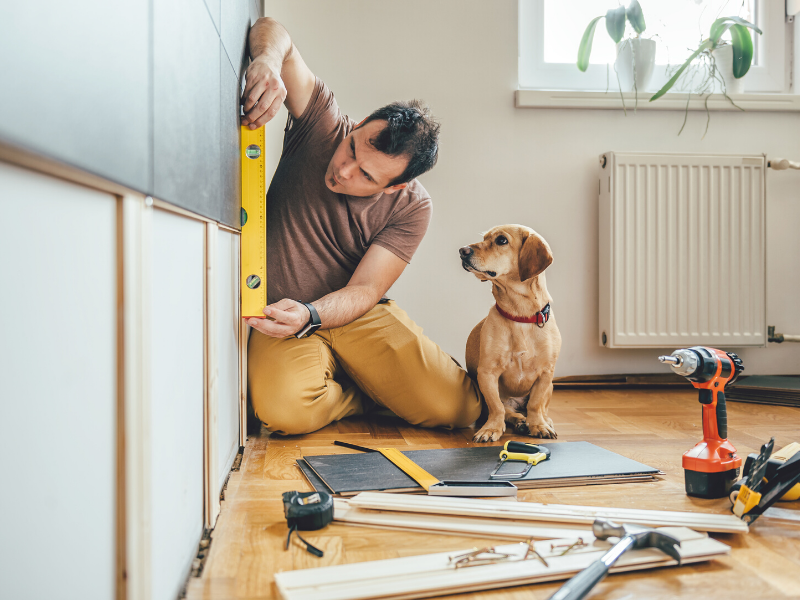 Every component of your home has a lifespan. Common questions asked by homeowners include when to replace the flooring or how long to expect their siding to last. This information can help when budgeting for improvements or deciding between repairing and replacing when the time comes. We're all familiar with the cliché: They just don't build things like they used to. And while this may be true when it comes to brick siding or slate roofing, lifespans of other household components have increased in recent years. Here are the life expectancies of the most common household items (courtesy of NAHB):
Appliances: Among major appliances, gas ranges have a longer life expectancy than things like dishwashers and microwaves.
| | |
| --- | --- |
| Appliance | Life Expectancy |
|  Oil-burning Furnace |  20 years |
|  Heat Pump |  16 years |
|  Gas Range |  15 years |
|  Electric range / Refrigerator / Dryer |  13 years |
|  Electric / Gas Water Heater |  10 years |
|  Garbage disposal |  10 years |
|  Dishwasher / Microwave / Mini Fridge |   9 years |
Kitchen & Bath: When choosing your countertops, factor in the life expectancies of different materials.
| | |
| --- | --- |
| Kitchen / Bath Item | Life Expectancy |
|  Wood / Tile / Natural Stone Countertops |  Lifetime |
|  Toilets (parts will require maintenance) |  50+ years |
|  Stainless steel sink |  30+ years |
|  Bathroom faucet |  20+ years |
|  Cultured marble countertops |  20 years |
|  Kitchen faucet |  15 years |
Flooring: If you're looking for longevity, wood floors are the way to go. Certain rooms in your home will be better suited for carpeting, but you can expect they'll need replacing within a decade.
| | |
| --- | --- |
| Flooring Material | Life Expectancy |
|  Wood / Bamboo |  Lifetime |
|  Brick Pavers / Granite / Marble / Slate |  100+ years |
|  Linoleum |  25 years |
|  Carpet |  8 – 10 years |
Siding & Roofing: When choosing roofing and siding for your home, climate and maintenance level factor into the life expectancy of the material. However, brick siding and slate roofing are known to be dependable for decades.
| | |
| --- | --- |
| Siding / Roofing Material  | Life Expectancy |
|  Brick Siding |  100+ years |
|  Aluminum Siding |  80 years |
|  Slate / Tile Roofing |  50+ years |
|  Wood Shingles |  30 years |
|  Wood Siding |  10 – 100 years (depending on climate) |
Are extended warranties warranted?
Extended warranties, also known as service contracts or service agreements, are sold for all types of household items from appliances to electronics. They cover service calls and repairs for a specified time beyond the manufacturer's standard warranty.
You will have to consider whether the cost is worth it to you. For some, it brings a much-needed peace of mind when making such a large purchase. Also consider if the cost outweighs the value of the item. In some cases, it may be less expensive to replace a broken appliance than to pay for insurance or a warranty.
Posted on March 27, 2020 at 8:00 am
Fort Collins
Category:

Homeowner, Living
Tagged

countertops, Dishwasher, dryer, electric range, electric water heater, Extended Warranties, faucet, Flooring, Furnace, garbage disposal, gas range oven, gas water heater, life expectancy, Lifespan, marble countertops, Microwave, Refrigerator, siding, stainless steel sinks, toilets
Investing in a home is a great way to build passive income but earning from your investment will take a little groundwork to become a well-oiled machine. This is your beginner's guide to owning an investment property so you can set up that foundation properly to avoid future headaches.
Make sure it's livable
It's important to start with your home inspection before you start making plans. Use the inspection report to prioritize the maintenance issues.
Before a tenant moves in, make sure the home is livable. Handle the important items that affect the livability of the property, either now or in the near future. If the inspector noticed a leak in the roof or holes that could lead to infestation, take care of those first. Other maintenance issues to prioritize are the fuel and the hot water source.
If your city has inspection and registration requirements, be sure to cross check those inspection checklists with your current property. If the property wouldn't pass now, make sure it will pass by the time the city sees it.
Upgrade the space
Once your property is in livable condition, it's time to upgrade. If you have any left-over budget after the necessities are handled, consider adding a bedroom or a bathroom where you can find the space. These rooms heavily impact the rental price, and the more you have the higher the price. If there's no space for another bed or bath, think about finishing the basement or upgrading some of the appliances to make the property more attractive to potential tenants.
Use similar properties in your neighborhood as your inspiration. These units are your competition, think about what you can add, or even take away, that would help you compete. Ask yourself what about your home is unique and in what ways does that affect your rentability? If every unit in your area has hardwoods, how can you make your carpeted home appealing? Maybe new carpet? Or is switching to hardwoods, or vinyl laminate that looks like wood, worth it?
Market it to future tenants
You need two things in your listing: 1) Great Photos 2) An Amazing Description
After you've perfected the property, it's time to tell potential tenants that it's available. Creating the listing is essential in drawing eyes on the unit so you can show it to as many people as possible.
Renters looking to move are quick to make their first impression of a property with thumbnail photos on a map. So, take lots of great, bright, photos of the entire place to showcase the amenities and show potential tenants what it looks like, then choose the best photo to be the first in the lineup. Remember to get the lighting is just right to show every corner of the listing. Dark photos scare tenants away, making them think the unit is dingy and dirty. Light and bright photos show a clean home that's move-in ready. They can imagine themselves living there a lot easier than in dark and cramped looking units.
Next, they'll read the description. This is again where other listings in your area can help you.
Read other listings to structure your description and to draw inspiration on what tenants might think is important. Find the selling points and emphasize those above the unique features, especially if those unique features are obvious in the photos.
Posted on November 18, 2019 at 3:17 pm
Fort Collins
Category:

For Buyers, For Sellers, Rental
Tagged

Bathrooms, bedrooms, Condition, condition of the home, description, Flooring, great photos, Hardwood Floors, inspection report, Investment, Investment Property, laminate, livable, maintenance, neighborhood inspiration, New Carpet, photos, Rent, rental price, rental prices, renters, updates
Posted in Buying and Living by Guest Author 
For many house hunters, a dream home isn't complete without being a good fit for the family dog. Some might see the fenced in yard, and consider the box checked. However, if you are looking for your next home, you may want to look a little deeper to be sure the fit is right before signing on the dotted line.
It's worth taking a little extra time to consider your pooch in a little more depth. Here is a quick checklist of considerations to be sure you find the right fit for your canine companion:
What's in a Yard?
A fenced yard is, of course, ideal for many dog owners. It gives you the ability for off-leash play, a must for meeting the exercise needs of active breeds such as Border Collies or Labradors. But not all yards are the same. Here's a quick checklist of what to look for:
Check the fencing to be sure it is secure. Factor in any repair costs into the cost of the home since they will need to be addressed right away.
Are there flower beds with potentially toxic plants that will need to be moved outside of the fenced area? Examples include many spring bulb favorites such as daffodils, tulips, and crocus, as well as some bushes such as azaleas.
Is there a nice shady spot so your pooch can find shelter from the heat on a hot summer day?
Is there access to water for an outdoor bath?
Will delivery people be able to access your main entrance when the dog is outside without entering the fenced part of your yard? It is easy to overlook, but this can become a major annoyance if you do a lot of online shopping.
Indoor Space Considerations
It won't always be a beautiful sunny day, even in your dream home. Make sure your new home will have enough space for a little indoor play on rainy days and during colder winter months. A long hallway can make a great runway for a game of fetch when getting outside just isn't practical.
Likewise, consider the needs of aging or injured dogs. Does the layout of the home require going up and down stairs to get to the most used areas of the home? This can be a major problem for some special needs dogs, and a deal breaker for some pet owners.
Finally, most dog trainers recommend that every dog has a little space to call their own during times of stress. This may be as simple as a corner of the living room with a comfy dog bed or crate. If you have a puppy, however, a space that can be puppy-proofed and cordoned off (with appropriate flooring for potential accidents during potty training) is in order.
Go for a Walk
It may be impractical to include a dog walk for every home you look at while searching for your dream house. However, once you are down to a short list, it is time to actually take your dog on what is likely to be the daily walk route. Make sure this is a walk you would feel comfortable making every day, or even letting the kids take.
Be on the lookout for hazards: A dangerous intersection, a portion of the walk that requires walking in the road, or a neighbor who lets their dog run right up to the curb with invisible fencing (a recipe for territorial fights with leashed dogs passing by). A drive through is unlikely to reveal these walk spoiling annoyances. In addition, look for evidence of good lighting for evening or early morning walks.
Nearby Canine Amenities
If you are moving to a new part of town or relocating to a new state altogether, it is worth doing some research to find out where the pet services are located. Depending on the services you tend to use, it can make a big difference in your quality of life to be able to take advantage of nearby conveniences.
Think about what services you are likely to use most, and check on Google Maps to locate:
Veterinarians
Dog boutiques (particularly important if you buy specialty food)
Grooming services
Doggy daycare and boarding
Pet sitting and dog walking services
Dog-friendly restaurants (BringFido.comis a great research tool for this)
Dog parks and dog-friendly paths for long walks
Flooring
Although luxurious hardwood flooring adds a great deal of ambiance to a home, it will have the opposite effect if it gets scratched up from the nails of a rambunctious canine. Large and even medium sized dogs can easily create unsightly scars in hardwood floors that can only be fixed by a professional who will need to sand away the wood then stain and refinish it. It's a costly fix!
Modern carpets can generally hold up to doggy traffic. However, think about where you will be coming in and out of the house with your pooch to be sure you have a place to wipe muddy paws first on rainy days. A mudroom or garage entrance can easily stow a few extra towels for the job.
Tile and high-quality laminate flooring are the most durable as both will resist scratching and are easy to clean.
Consider Pet-Friendly Condos and Planned Communities
If you have a truly pampered pooch, one way to go the extra mile is to ask your realtor about dog-friendly communities in your area. Many condominium complexes, for example, have pet services right on site. Pet grooming, pet-sitting, dog walking services, and even a fenced in dog park and/or pool is available in some areas.
Work with a Knowledgeable Realtor
Make sure to let your agent know upfront that you have a canine member of your family to consider during the house hunt. If there are certain "musts" such as a fenced yard, or proximity to veterinary services, be sure to put that on the table upfront to help your realtor find a home that works for you and your furry friend.
Sharon is the lead author at wileypup.com. She received her M.S. in Science & Technology Studies from Virginia Tech and has worked as a professional dog trainer for over 10 years.
Posted on February 25, 2019 at 5:00 am
Fort Collins
Category:
Blog
Tagged

Dog Home, Dog Lover, Dog Park, Family Home, Fence, Flooring, Grooming, Lawn, Pet Friendly Community, Pet Sitter, realtor, Vet, Walking Path, Windermere, yard