Condominium homes are a great, low-maintenance choice for a primary residence, second home, or investment property. This alternative to the traditional single-family home has unique issues to consider before buying, as well as unique benefits.
Increasingly, condos are not just for first-time homebuyers looking for a less expensive entry into the housing market. Empty-nesters and retirees are happy to give up mowing the lawn and painting the house. Busy professionals can experience luxury living knowing their home is safe and well-maintained while they are away on business.
If you are considering buying a condominium for a home, here are a few things you should know:
Condominium basics:
With condominiums, you own everything in your unit on your side of the walls. Individual owners hold title to the condominium unit only, not the land beneath the unit. All owners share title to the common areas: the grounds, lobby, halls, parking areas and other amenities. A homeowners' association (HOA) usually manages the complex and collects a monthly fee from all condominium owners to pay for the operation and maintenance of the property. These fees may include such items as insurance, landscape, and grounds up-keep, pool maintenance, security, and administrative costs.
The owners of the units in a condominium are all automatic members of the condo association. The association is run by a volunteer Board of Directors, who manage the operations and upkeep of the property. A professional management company may also be involved in assisting the board in their decisions. The condo association also administers rules and regulations designed to ensure safety and maintain the value of your investment. Examples include whether or not pets are allowed and the hours of use for condominium facilities, such as pools and work-out rooms. Should a major expense occur, all owners are responsible for paying their fair share of the expense.
The pros and cons of condominium living:
The condominium lifestyle has many benefits, but condominium ownership isn't for everyone. Whether living in a condominium works for you depends on your current and planned future lifestyle. By necessity, condominium associations have a number of standardized rules. You need to decide whether these regulations work for you or not. Here are some points to keep in mind if you're considering condominium living.
Convenience: People who love living in condominiums always cite the convenience factor. It's nice to have someone else take care of landscaping, upkeep, and security. Condominium homes are often located in urban areas where restaurants, groceries, and entertainment are just a short walk away.
Luxury amenities: May condominiums offer an array of amenities that most homeowners couldn't afford on their own, such as fitness centers, clubhouses, wine cellars, roof-top decks, and swimming pools. Lobbies of upscale condominiums can rival those of four-star hotels, making a great impression on residents.
Privacy: Since you share common walls and floors with other condominium owners, there is less privacy than what you'd expect in a single-family home. While condominiums are built with noise abatement features, you may still occasionally hear your neighbors.
Space: Except for very high-end units, condominiums are generally smaller than single-family homes. That means less storage space and often, smaller rooms. The patios and balconies of individual units are usually much smaller as well.
Autonomy: As a condominium owner, you are required to follow the laws of the associations. That means giving up a certain amount of control and getting involved in the group decision-making process. HOA bylaws vary greatly from property to property, and some people may find certain rules too restrictive.
Things to consider when you decide to buy:
Condominium homes vary from intimate studios to eclectic lofts and luxury penthouses. The right condominium is the one that best fits your lifestyle. Here are a few questions to ask to determine which condominium is right for you.
How will you use it? 
Will your condominium be your primary residence? A second home? An investment property? While a studio may be too small for a primary residence, it might be a perfect getaway. Also, consider how your lifestyle may change over the next five to seven years. If you are close to retirement, you may want to have the option of turning a vacation condominium into your permanent home.
What amenities are most important to you?
Amenities vary location to location. Decide what you want, and you can be assured of finding it. Most urban and resort condominiums have an enticing array of extras, from spas to movie screening rooms to tennis courts.
What are your specific needs?
Do you have a pet? Some associations don't allow them; others have limitations on their size. Most buildings will have a rental cap, so be sure to know what that cap is if you're buying as an investment. Parking can also be a major issue, especially in dense, urban areas. How many spaces do you get per unit? Do you pay extra if you have more vehicles?
Cost: Condominium homes typically cost less than houses, so they're a great choice for first-time buyers. However, because condominiums are concentrated in more expensive locations, and sizes are generally smaller than a comparable single-family home, the price per square foot for a condominium is usually higher.
Finally, once you've found a property you like, examine the association's declaration, rules, and bylaws to make sure they fit your needs. The association will provide you with an outline of their monthly fees and exactly what they cover so you can accurately budget your expenses.
Ask to review the association board's meeting minutes from the past year to get an idea of any issues the association is working on. An analysis of sales demand and property appreciation compared to like units may help ensure that you make the best possible investment.
When it comes time to decide if you want to downsize, there are many thoughts and emotions that go speeding through your mind.  Maybe you have already decided this is your home for the rest of your life.  Your home was the perfect place to meet your needs when you were in an earlier cycle of life, and will be the ideal home for all the events you see happening in your next.  If you are inclined to feel that the home you currently reside in may have out-lived its purpose, you may be struggling with some of the same thoughts and emotions my husband and I had when it came to the emotional and financially sensitive decision to downsize.
In our situation, we loved our home.  It provided everything we needed to raise our three children, plus nurture all the creative projects that identified who we are as a family as well as individuals.  Our children were just like anyone else's; loved, individually different, all requiring unique activities and space to help them grow, using their special talents.  We loved our neighborhood and took an active part in making it an extension of our home.  Considering that it had been our home for decades, deciding to leave was emotionally difficult.
We spent several years before we knew we would leave our home, looking at all the smaller options.  We wondered, should we look for another single-family dwelling or check out other options like co-ops of condominiums?  My husband had spent the past twenty-five years mowing our lawn and was quite willing to remove this task from his plate. I, on the other hand, still loved to garden.  Was there a living environment that could satisfy both these expectations?  We looked at every condominium and every co-op in the Seattle area for five years, but nothing really fulfilled everything we needed.  We had a list of features including a garden spot, closets and efficient use of space, etc. I'm an Old World Charm lady, but guess what?  Back in the 20's ladies only owned three dresses.  Let's just say, I own a few more outfits than most pre-war closets were meant to hold.  So the search went on.
When our children finally reached their 20's and my husband wanted to retire, we knew it was time to make our move.  Like I said, everyone loves their children, but not all the party time we now came to expect in our rec room every weekend.  We were ready to have a space of our own, and it was time for our kids to begin their next cycle in-life.  We also had too much of our finances tied up in a 3,000 square foot house, when in reality we needed less and could save more.  We had to leave the home we had dedicated to making our unique expression of who we were, and leave very soon.
If any of this sounds familiar, your task will be a little easier than it seems! Here is some practical advice for making your move:
Define your needs:  Narrow down your ideal needs. Start by deciding if you want a single-family versus multi-family dwelling. Consider your price range, and then space needs.
Downsize: We downsized a bit more than we should have, but we sure got rid of lots of items we collected over the past 25 years.  Some of them were special to me.  I'd purchased a beautiful wood serving tray at a yard sale with one of my dearest friends.  I had to borrow money from her to buy it.  I solved the problem by giving it to her when we moved, and I still see it when I visit her home.  My children took much of the furniture they had a special connection to, and my nephew, who spent nearly every Christmas sitting in his favorite red chair, can now enjoy it in his own home.
Let go: Leaving the neighborhood and all our lifelong friends was the most difficult process, I think, of all the decisions we had to make.  We still see them, but as I'm writing this my eyes are tearing up.  It's hard to re-visit my old neighborhood and see my old home cared for in a different way than I had lovingly done for twenty-five years.  But it does give us plenty of things to talk about with old friends when we get together.
What did we end up doing?  We moved into a vintage 1930's co-op in a walkable part of town.  I have just the right amount of gardening space that I share with other owners.  We have made wonderful friends with some of our neighbors and get together frequently for happy hour and spur-of-the-moment gatherings.  It's a different lifestyle than we had before but, believe me, there are plus sides. In no way will any of our three wonderful, adored, adult children ever be able to move back home, since we now live in an 850-square-foot co-op with every space used on a daily basis.  There were times when I wouldn't go in one of my rooms in our old home for several weeks.  This is not a problem now.  Yes, maybe it's too small, but we can always move into a larger place if and when we feel it's time.
What are your questions about downsizing your home? What features do you require to live in a smaller, more efficient dwelling?
Pat Eskenazi is a Windermere veteran, working in marketing for the past 12 years. She has lived in Seattle since 1952.  Her favorite place to walk is along Golden Gardens, and she especially loves to climb the stairs up to the Sunset Hill neighborhood where she lived with her 3 children and husband for 25 years.
Posted on March 18, 2019 at 1:45 pm
Fort Collins
Category:

Blog, Housing Trends
Tagged

children, Condominiums, Downsize, empty nester, empty nesters, Features, moving, Must have, Needs, Size, Windermere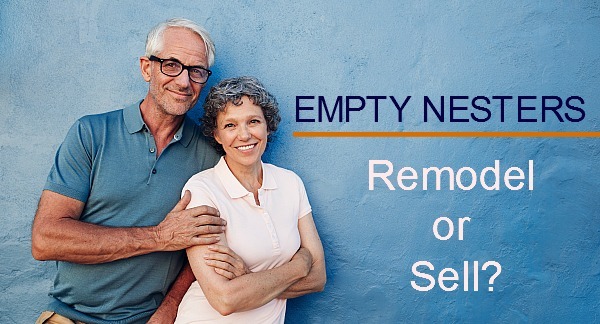 Your kids have moved out and now you're living in a big house with way more space than you need. You have two choices – remodel your existing home or move. Here are some things to consider about each option.
Choice No. 1: Remodel your existing home to better fit your current needs.
Remodeling gives you lots of options, but some choices can reduce the value of your home. You can combine two bedrooms into a master suite or change another bedroom into a spa area. But reducing the number of bedrooms can dramatically decrease the value of your house when you go to sell, making it much less desirable to a typical buyer with a family.
The ROI on remodeling is generally poor. You should remodel because it's something that makes your home more appealing for you, not because you want to increase the value of your home. According to a recent study, on average you'll recoup just 64 percent of a remodeling project's investment when you go to sell.
Remodeling is stressful. Living in a construction zone is no fun, and an extensive remodel may mean that you have to move out of your home for a while. Staying on budget is also challenging. Remodels often end up taking much more time and much more money than homeowners expect.
Choice No. 2: Sell your existing home and buy your empty nest dream home.
You can downsize to a single-level residence and upsize your lifestyle. Many people planning for their later years prefer a home that is all on one level and has less square footage. But downsizing doesn't mean scrimping. You may be able to funnel the proceeds of the sale of your existing home into a great view or high-end amenities.
A "lock-and-leave" home offers more freedom. As your time becomes more flexible, you may want to travel more. Or maybe you'd like to spend winters in a sunnier climate. You may want to trade your existing home for the security and low maintenance of condominium living.
There has never been a better time to sell. Our area is one of the top in the country for sellers to get the greatest return on investment. Real estate is cyclical, so the current boom is bound to moderate at some point. If you're thinking about selling, take advantage of this strong seller's market and do it now.
Bottom Line
If your current home no longer works for you, consider looking at homes that would meet your lifestyle needs before taking on the cost and hassle of remodeling. Get in touch with a Windermere Real Estate broker to discuss the best option for you.