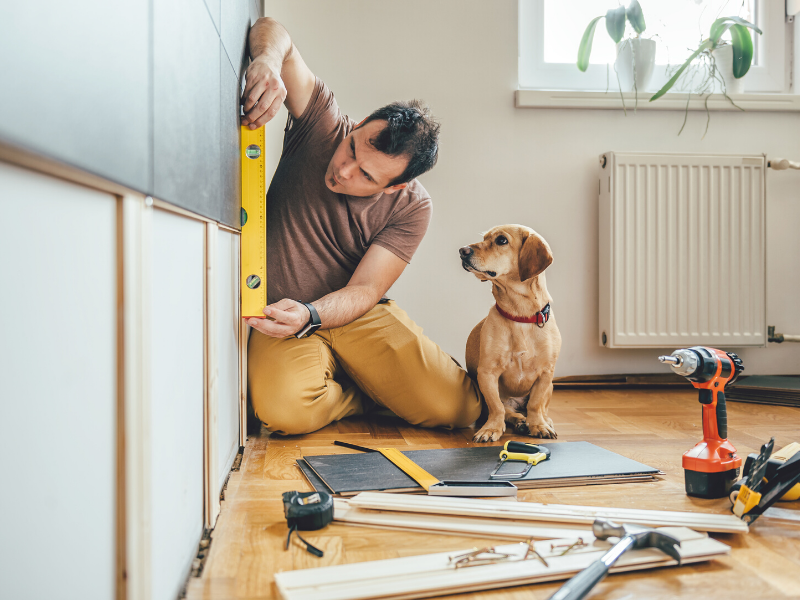 Every component of your home has a lifespan. Common questions asked by homeowners include when to replace the flooring or how long to expect their siding to last. This information can help when budgeting for improvements or deciding between repairing and replacing when the time comes. We're all familiar with the cliché: They just don't build things like they used to. And while this may be true when it comes to brick siding or slate roofing, lifespans of other household components have increased in recent years. Here are the life expectancies of the most common household items (courtesy of NAHB):
Appliances: Among major appliances, gas ranges have a longer life expectancy than things like dishwashers and microwaves.
| | |
| --- | --- |
| Appliance | Life Expectancy |
|  Oil-burning Furnace |  20 years |
|  Heat Pump |  16 years |
|  Gas Range |  15 years |
|  Electric range / Refrigerator / Dryer |  13 years |
|  Electric / Gas Water Heater |  10 years |
|  Garbage disposal |  10 years |
|  Dishwasher / Microwave / Mini Fridge |   9 years |
Kitchen & Bath: When choosing your countertops, factor in the life expectancies of different materials.
| | |
| --- | --- |
| Kitchen / Bath Item | Life Expectancy |
|  Wood / Tile / Natural Stone Countertops |  Lifetime |
|  Toilets (parts will require maintenance) |  50+ years |
|  Stainless steel sink |  30+ years |
|  Bathroom faucet |  20+ years |
|  Cultured marble countertops |  20 years |
|  Kitchen faucet |  15 years |
Flooring: If you're looking for longevity, wood floors are the way to go. Certain rooms in your home will be better suited for carpeting, but you can expect they'll need replacing within a decade.
| | |
| --- | --- |
| Flooring Material | Life Expectancy |
|  Wood / Bamboo |  Lifetime |
|  Brick Pavers / Granite / Marble / Slate |  100+ years |
|  Linoleum |  25 years |
|  Carpet |  8 – 10 years |
Siding & Roofing: When choosing roofing and siding for your home, climate and maintenance level factor into the life expectancy of the material. However, brick siding and slate roofing are known to be dependable for decades.
| | |
| --- | --- |
| Siding / Roofing Material  | Life Expectancy |
|  Brick Siding |  100+ years |
|  Aluminum Siding |  80 years |
|  Slate / Tile Roofing |  50+ years |
|  Wood Shingles |  30 years |
|  Wood Siding |  10 – 100 years (depending on climate) |
Are extended warranties warranted?
Extended warranties, also known as service contracts or service agreements, are sold for all types of household items from appliances to electronics. They cover service calls and repairs for a specified time beyond the manufacturer's standard warranty.
You will have to consider whether the cost is worth it to you. For some, it brings a much-needed peace of mind when making such a large purchase. Also consider if the cost outweighs the value of the item. In some cases, it may be less expensive to replace a broken appliance than to pay for insurance or a warranty.
Posted on March 27, 2020 at 8:00 am
Fort Collins
Category:

Homeowner, Living
Tagged

countertops, Dishwasher, dryer, electric range, electric water heater, Extended Warranties, faucet, Flooring, Furnace, garbage disposal, gas range oven, gas water heater, life expectancy, Lifespan, marble countertops, Microwave, Refrigerator, siding, stainless steel sinks, toilets
With the increased emphasis on global warming in recent years, combined with rising energy costs, more and more people are asking what they can do to make their homes more energy efficient. Energy conservation can be as simple as closing your curtains at night, changing a light bulb, turning down your thermostat, or closing the fireplace damper. Many of the most inexpensive solutions quickly pay for themselves in conservation, which you ultimately benefit from when you get your power bill.
One of the biggest ways you can conserve energy is to take advantage of "off-peak" hours. This is a step that everyone can take because it simply involves shifting your power use of major appliances, such as washing machines, dryers, and dishwashers. Puget Sound Energy recommends using these appliances outside of peak hours—peak hours are between 6am-10am and 5pm-9pm. Studies show that by shifting a portion of your energy use, consumers can significantly lower wholesale electricity prices, which saves everyone money in the long run.
Another way you can save energy is by washing your clothes in cold water and only running full loads. When using the dryer, toss in a couple of dry towels with your clothes to help speed up the drying process. It's also important to clean the lint trap in your dryer after every load and make sure the dryer hose and vent are clear.
There are several steps you can follow to reduce your home's demand on heating during the winter months. Conventional measures, such as setting back your thermostat, are effective at reducing energy consumption. It is recommended that you keep your thermostat set between 65 and 72 degrees during the winter months. Keep in mind that by simply lowering your thermostat one degree, your furnace will use seven percent less energy overall. It's also important to clean your furnace filter frequently—doing so will enable your heating system to run more efficiently and cost-effectively.
It's estimated that lighting accounts for 10 percent of your overall home energy bill, so another way you can conserve is by using energy-saving fluorescent light bulbs, known as CFL light bulbs. CFLs use approximately one-quarter of the energy of equivalent incandescent bulbs, they give off warm, indirect light, and they last ten times longer than average light bulbs. When shopping for CFLs, look for those with the Energy Star label on them—this ensures that you're purchasing a product that has been approved by the U.S. Environmental Protection Agency (EPA) and the U.S. Department of Energy (DOE).
For more information about energy conservation, please visit www.energystar.org.