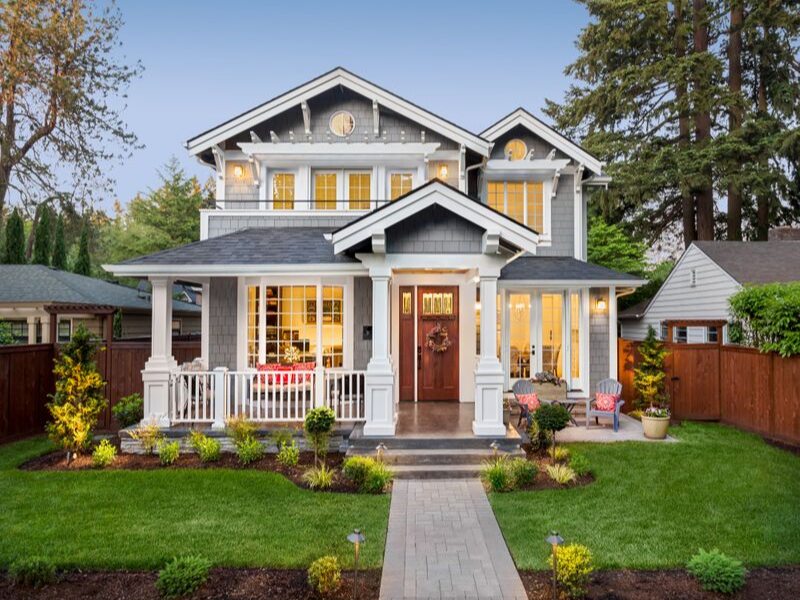 Have you ever rented the unit in someone's basement? Maybe your spouse's mother moved into your "Mother-In-Law Unit" above your garage? Or have you ever traveled and stayed in a pool house for your stay? Commonly referred to as "Mother-In-Law" units, homeowners use these as a way to fill the space in their home and gain residual income, either from vacationers or long-term tenants.
The official terms for these units are Additional Dwelling Units (ADU) or Detached Additional Dwelling Units (DADU's), and are defined as extra spaces in homes and on properties where someone can live completely independent of the main house.
These units can be almost anywhere on the property, but they are usually located in the basement, in the backyard, or above the garage. They have their own bathroom and kitchen facilities, and sometimes they share laundry with the main house.
Thinking of adding a unit to your home? Here are some benefits and risks, as well as important aspects to consider before you build:
Benefits
Homeowners can maximize their investment by renting out the extra space to long-term tenants for short-term vacationers. These tenants can help pay off debt or create an extra stream of income to pay for other needs or wants.
Depending on several factors, including the size of the unit, the market in the area, and other factors, each homeowner should decide which option they are more comfortable with. These decisions should be made before they list the unit for rent to best market to the right audience.
Risks
An obvious risk is that when you open your space to a stranger, there's a possibility that things might end poorly. Either the tenants could turn out to be untrustworthy, or unreliable, leading to a financial burden.
To minimize the risks, it's a good idea to use an application process to check backgrounds and employment history as a tool to get to know the potential tenant. Make sure to adhere to the National Fair Housing Laws and your local regulations.
Things to Consider:
What are the shared spaces?

Would you be comfortable sharing those spaces, and potentially appliances, with a new person each weekend, or would you rather get to know the long-term tenant who would use those on a consistent basis?
Rooms like the kitchen can be great for those who want to get more interaction from their vacation renters. However, sharing one bathroom between the homeowners and the visitors can be uncomfortable and risky.
Would you be okay with a long-term renter using your laundry facilities? What kind of access would they need to the house in order to use those machines?
What is the size of the ADU/DADU?

Is it truly a space where someone could live, or would it be too tight to fit all the necessary appliances?
Does the unit adhere to your local housing codes as a livable space?
How close are the units and what noise level are you comfortable with?

As a long-term landlord, tenants have the right to quiet enjoyment without the landlord barging into their space or controlling their activities. If the unit is in the basement and the tenant has friends or family over, that noise could permeate into your unit in the late hours of the night. A way to prevent this is to be sure to layout quiet hours and expectations before they sign the lease or make an agreement so that you and the tenant are on the same page.
The same goes for the rules in the vacation rental listing. Managing expectations is the first way to create a relationship with the tenants, even those there for the weekend.
What improvements are required to make the unit livable?

Do you need to add a kitchen or a bathroom? What are the costs associated with those improvements and would the market-rate rental prices make up for those improvements? You might not get your money back within the year, but if you're dedicated to making the space worth it to rent it out over the next few years, these improvements, and financial obligations are necessary.
If these initial investments aren't viable for your situation, it might be a good idea to look at other options to earn rent from your home, including adding roommates with whom you're willing to share all the common spaces.
Whatever you decide, it's important to be familiar with the rental market and regulations in both your local region and your neighborhood.
Do you have an ADU or DADU on your property? How do you use it? Let us know in the comments.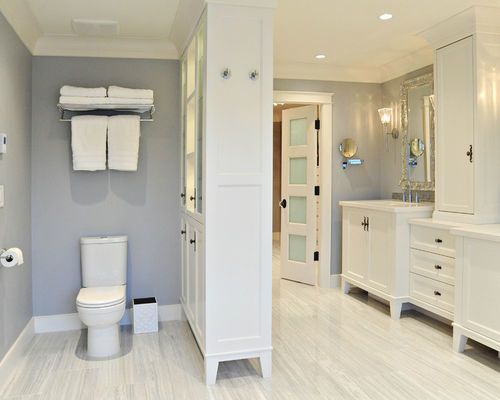 From the beginning of your bathroom renovation, your plumbers and framers need to know where your toilet should go — whether it'll be mounted on the floor or wall and where the water supply should be positioned. If that's not complicated enough, wall paneling, tile installation, shower doors and baseboards will all factor into the equation for your toilet location, too.
Don't feel overwhelmed — finding the right professional can help you get through the technical stuff, and having a handle on these tips and tricks can help you find a spot for your toilet that works for you and your bathroom's design.
Toilet 1: Enviable Designs Inc, original photo on Houzz
Take Note of Wall Panels and Baseboards
Most toilets are roughed-in 12 inches from the finished wall. This works well for most floor-mounted toilets.
Tip: Some toilets require floor anchoring clips — another limiting factor because it can interrupt radiant heating. Talk with your floor heating contractor before choosing this type of toilet to make sure that the anchors won't mess with water lines or heating cables.
Toilet 2: kbcdevelopments, original photo on Houzz
What a classic bathroom — I love it. The look and feel of the toilet fits in with the baseboard and crown molding perfectly. I would guess the baseboard wraps behind the toilet for a seamless look.
Tip: It's very hard to paint behind toilet tanks like this. I suggest painting the wall and installing the baseboard before putting the toilet in.
Plan Out Your Shower First
If you're planning on having a barrier-free shower near your toilet, consider installing a wall-mount toilet to make waterproofing measures simpler for your contractor.
Toilet 3: Beyond Beige Interior Design Inc, original photo on Houzz
Shower doors also play a role in your toilet's location. To meet building codes, a shower door needs to open both in and out, so you'll want to take the door swing into account when choosing your toilet spot.
Tip: Work with your contractor to play with different toilet and door locations when finalizing your shower's size. Use a piece of string and a marker to draw an arc on the floor to show the door swing. This will help you visualize where a toilet can fit comfortably.
Decide on a Wall Mount or Floor Mount
Installing a wall-mount toilet is a chore. All of them require a wall carrier to support the toilet, and some have very exact water supply positions, which allows for little flexibility in location. However, the look is seamless and modern and has some functional benefits as well.
Tip: A standard toilet is 14 to 15 inches high from the finished floor to the top of the bowl (excluding the fold-down seat). Consider a higher measurement of 16 to 18 inches for your wall-mounted toilet if you plan on aging into your golden years. It may seem high now, but you'll be thankful for the added height later.
Toilet 4: kbcdevelopments, original photo on Houzz
Wall-mounted toilets are great for smaller spaces because the tank is inside the wall. In this installation, you can see that the builder brought the wall forward for this wall-mounted toilet's water carrier to create a ledge above the sink and toilet for the flush activator. Usually these ledges are larger, and I love the smaller version here.
Toilet 5: Fixture Universe, original photo on Houzz
During installation, most toilets are dropped in over two bolts and the bolts are trimmed and capped to keep the toilet in place. Many clean line toilets (which are great for easy cleaning) have separate mounting blocks, and the toilet is screwed into place from the two sides. This Duravit toilet has those great clean lines, but the same easy installation as a regular toilet.
Tip: We have a 10-flush rule with any new toilet. After it's installed but before using any silicone, we flush the toilet 10 times back to back to make sure everything's functioning properly.
Note that floor-mounted and wall-mounted toilets come in regular and elongated versions. If you're tight on space, look for a regular or smaller model.
Toilet 6: Bill Fry Construction – Wm. H. Fry Const. Co., original photo on Houzz
Pay Attention to Any Recesses or Compartments
In this photo, the recessed shelves above the toilet allow for more headroom and save space. This clever use of space was no doubt made possible by good planning. Make sure your entire building crew knows about spaces like this ahead of time for a successful build.
Tip: Check that your builders spray paint the framing around these niche locations before any wires, pipes or insulation is installed.
If you are planning a toilet compartment, the NKBA recommends a space about 36 by 66 inches, with a 32-inch-wide doorway. The absolute minimum would be 30 by 60 inches, which leaves just 15 inches of space on either side of the toilet rough-in.
Tip: If you're worried about the bottom of your toilet scratching your floor tile or hardwood during installation, consider using scraps of Kerdi waterproofing membrane on the bottom of the toilet. Anything that will stick to the toilet bottom — extra peel-'n-stick tiles, scraps of linoleum, etc. — can work.
By JW, Houzz